Easy Fixes For imap.aol.com Is Not Responding Message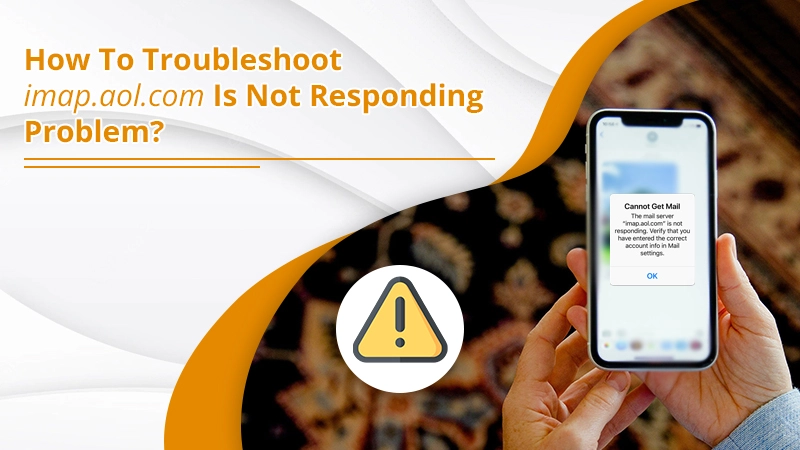 For AOL users, their mail has an important influence on their lives. The email exchange is needed every day. So, a situation where you find imap.aol.com is not responding can prove to be stressful. This error message implies that the email information cannot load. Users typically try to fix this error by refreshing their AOL inbox. 
However, instead of the error getting fixed, they get an AOL IMAP server error. The problem hinders them from getting new emails. If you're also facing the same issue, there are a bunch of fixes to try at your end. Here's what to do in this situation. 
Related Post:- Why is AOL mail not syncing
What to Do When imap.aol.com Is Not Responding?
You can make your IMAP AOL responsive again by using simple troubleshooting. Follow these methods one by one and see where the problem lies.
Reinstall AOL Account
You will commonly find IMAP AOL com not responding because of the heavy load of incoming and outgoing emails. So, reinstalling it will rectify the settings. Follow these points to remove and reinstall the AOL account.
Head over to the settings of your device.

After that, go to '

Accounts and Password

.'

There will be a list of email accounts to use. Click that email account that is unresponsive. 

Now, remove or delete that account.

Hit the '

Back

' button to navigate to the menu bar.

Your device will now start syncing to the new configuration.

Open the settings again and go back to '

Accounts and Password

.'

Once there, tap '

Add Account

.'

You will view many email providers. From their list, choose the AOL account that is encountering the glitch.

After selecting it, you'll need to type your credentials, like username and password.

Input these details. Now you can work with your AOL account. It will not be unresponsive.
Related Post:- How To Reset AOL Mail Password
Reconfigure Your Wireless Connection
A poor wireless internet connection also leads to IMAP AOL not responding on different devices. So, you can reset the connection. Try to restart your router so that the data packages passed through it get reconfigured. It will refresh the connection. 
Ideally, there will be a reset button on the router. But if you cannot see it, remove the power cable from it. Plug it back into your router after half a minute.
Disable Sandbox Mode
Sometimes, the Sandbox mode can cause problems in the working of the email. Here are the points to follow to turn it off in a browser like Google Chrome. 
Head over to '

Properties

.'

Now, choose the '

Shortcut

' tab. 

Go to the '

Target

' section. Here, add '

-no-sandbox

 at its end.

To save your changes, tap '

Apply

' followed by '

OK

.'      
Examine Your IMAP Account Settings
It is important to be careful while typing account settings like port number, IMAP address, etc. when setting up the AOL account on another email application. Any problems in them will cause your IMAP AOL to not respond. Ensure that your IMAP settings are as follows:
imap.aol.com is the server address. 

993 is the port number. 

SSL Type is SSL. 
Related Post:- AOL IMAP settings
Turn Off Two-step Security
Disabling the two-step security is another technique to use when you find that your imap.aol.com is not responding. It will hinder an email client like Outlook from linking to the AOL Mail server. As long as you have the two-step security enabled, you'll keep receiving the IMAP password window on your screen. So, disable the two-step security and see if your problem resolves. 
Fix imap.aol.com Not Responding on iPhone
You can employ minor changes to troubleshoot unresponsive IMAP AOL on your iPhone. Follow these techniques.
Relaunch the AOL Mail App on iPhone
Often, imap.aol.com gets unresponsive due to a glitch in the mail application. You should fix it by quitting the application fully. After that, launch it once more and open the AOL Mail app. You won't see any problems in working with it.
Switch On and Off the Airplane Mode
When you turn on and then turn off the airplane mode, it disables the Wi-Fi transmission and, in turn, fixes an unresponsive IMAP AOL. Here are the steps to carry out this measure.
Firstly, head over to the '

Control Panel

' of your iPhone. Do it by swiping down the screen.

Then tap '

Airplane Mode

.' Now turn it on.

Wait for some minutes and turn the airplane mode off.

Now check if the problem is still there.
Uninstall and Reinstall AOL Mail on iPhone
Another solution is to reinstall AOL Mail on your iPhone. Follow these steps for it. 
Navigate to your iPhone's '

Settings

' and choose '

Mail, Contacts, Calendars

.'

Select AOL email account. 

No, choose '

Delete account

.'

Reinstall your account by tapping on '

Settings

' followed by '

Mail, Contacts, Calendars

.'

Go to the '

Accounts

' option and choose '

Add account

.'

Pick an email account or choose '

Other

.'

Now, type in your email credentials. 

See if the problem resolves.
Set up IMAP on Your iPhone
To tackle IMAP AOL not responding problem, you can set up the IMAP connection on your device. Go through these steps to configure this connection. 
Launch your iPhone's '

Settings

.'

Head over to '

Accounts and passwords

.'

Click '

Add Account

' followed by '

Other

.'

Now, tap '

Add mail account

.'

Input your credentials and account description. 

Hit '

Next

.'

Now, click '

Done

.'

If the mail cannot locate your settings, you must type them manually. 

Now, click '

Next

.'

Lastly, hit the '

Save

' button. Wait for some time till the email syncing begins. 

Upon its completion, launch the AOL app. 
Related Post:- Why AOL Mail Not Working On iPhone
Force Stop the AOL Mail App 
Force stopping the mail app eliminates the bug that's making your IMAP AOL unresponsive. You can force stop and restart the AOL Mail app on iPhone in a few easy steps.
Hit the '

Home

' button two times on your iPhone.

Now swipe up the image of the app.

Open the AOL Mail app and see if the server problem is still there.
The Bottom Line
You can fix the AOL IMAP server in various ways on your phone and system. Use these techniques whenever imap.aol.com is not responding on iPhone or any other device. Many of them are useful for resolving the issue. But if nothing works, dial the number of a good email support service.