Fix Office 365 Install Stuck Error With These Simple Solutions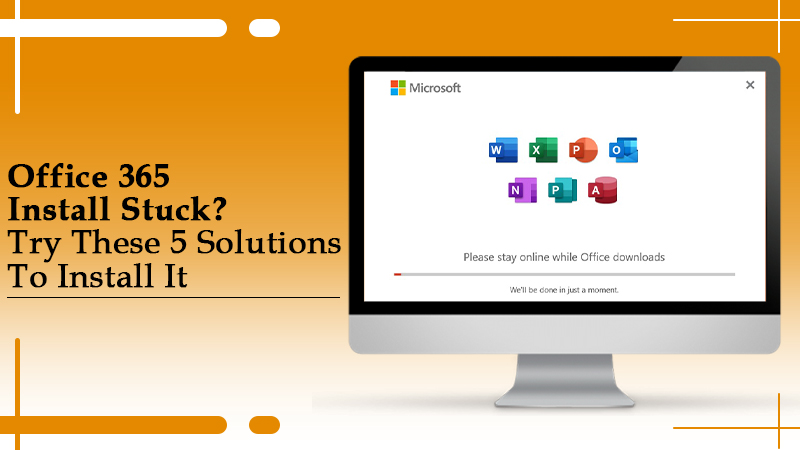 Office 365 is a cloud-based software that provides an extensive range of applications to its users. These applications, like Word, Excel, SharePoint and the like, facilitate people to collaborate with each other easily and accomplish their work faster. However, a prevalent issue that people face while using this software is regarding its installation. Many users have reported the case of Office 365 not being able to install in their system. When people face such a problem, they notice an error message that displays Office 365 install stuck at 2, 3, 51, and 58. The issue frustrates users as they don't know why such a problem has occurred. If you are one such user, then it's time to stop panicking over it. The article will lay down the probable reasons for this error and what you can do to resolve it. 
Also Check: How to Repair Office 365 on Windows 10?

What are the Reasons for the Error Message Office 365 Install Stuck?
How fast Office 365 installs on your system depends to a great extent on your internet connection speed. If you have a low-speed internet connection, then your Office 365 won't install. Moreover, a low speed of the internet will also cause the installation process to take hours. In this case, users will see a message saying, 'Sorry, it looks like you're on a slow connection.' The error can also occur when your Windows installer is busy or you are trying to update another software on your device simultaneously. 
If you are tired of the installation problem, then there's good news for you. There are many techniques that allow you to resolve this problem. Keep reading to find stepwise instructions on implementing them. 
Techniques to Troubleshoot the Office 365 Install Stuck Error
When you find your Office 365 not installing, there are various things that you can do. Either you can restart your system or utilize a wired connection. Let's dive deeper into these troubleshooting techniques. 
1. Restart Your System
There's a high likelihood that your Office 365 installation is already done. It means that the software is installed on your system. Many users are not able to identify where the installation has been completed. If you think that this is the case with you, then you need to restart your computer. 
After that, see if the Office product is there. Follow these steps to find and open the Office programs.
Select the 'Start' button on Windows 10. 

Write the application name, like Excel or Word, in the search field.

Now tap on the particular application you wish to launch.
This is all you need to do to start working with Office 365 again. But if you find yourself still complaining about Office 365 stuck on installing, take a look at the following method. 
2. Make Use of the Office Offline Installer
Sometimes the installation process gets stuck because of Firewall, antivirus, and connectivity issues. They slow the connection speed, and as a result, the installation does not begin. To eliminate the Office 365 not installing problem, use the Office Offline Installer file individually. To download and use this file, follow these steps:
Log in to your Office 365 account and navigate to 'Install Office.'

Go to 'Download and Install' and then choose other options.

Check the checkbox of 'Download an offline installer.'

After selecting the language for installing Office, tap 'Download.'
After the Offline Installer file downloads, implement these steps:
Navigate to the Office folder.

Double-click' Setup32.exe' or 'Setup64.exe' to begin the offline installation.

When you find the message 'You're all set,' you can start accessing the offline applications.
3. Run the Online Repair Tool
Users who report Office 365 stuck on installing can make use of the Online Repair tool. To run it, go through these steps.
Launch the 'Control Panel' on your Windows.

Choose the option of 'Programs and Features.'

In the window of 'Change a program' or 'Uninstall' choose that Office product which you want to install.

Tap 'Change' and choose 'Online Repair.'

Adhere to the instructions on the screen to run the tool and resolve the problem. 
4. Reinstall Office 365 Again 
Another resolution to troubleshoot Office 365 install stuck error is to cancel the stuck installation process. After cancelling, reinstall Office 365 when you have a high-speed internet connection. This time there's a high possibility that the software will get installed on your computer. 
5. Disable Your Antivirus Software for Some Time
Sometimes the antivirus software also hinders the installation process of Office 365 due to security reasons. Go through your specific antivirus manufacturer's web page for finding information about turning off the antivirus software. If you are unsure about your antivirus software, do the following:
Go to 'Control Panel' and then 'System and Security.'

Tap 'Review your computer status.'

Tap the arrow key beside 'Security.'

You will find information about your specific antivirus. Disable it and get rid of the Office 365 install stuck error.
Also Check: How to Troubleshoot Office 365 Not Activating Issues

How to Resolve Office 365 Install Stuck Error on Mac?
If your Office 365 won't install on Mac and is stuck on running package scripts, then also you have a troubleshooting method to resort to. Follow these instructions.
Find whether the Office applications icons appeared in the 'Applications.'

If you find them present there, then navigate to the 'Activity Monitor.' Once there, force quit the install.

Try to disable antivirus before you run the installation. It might take a long time.

Try running the install when you are in 'Safe' mode.

If you still find the problem persisting, update your Mac device to the latest version.
Final Words
The various methods to troubleshoot the Office 365 install stuck error are very straightforward. Start by restarting your system if Office 365 is already installed. You can also use Office Offline Installer if the issue arises due to antivirus or connectivity problems. Reinstalling Office 365 when you have a high-speed internet connection also works well. Get in touch with Office 365 customer support anytime if you cannot troubleshoot the error independently.