Top 6 Ways to Fix Outlook Not Showing Images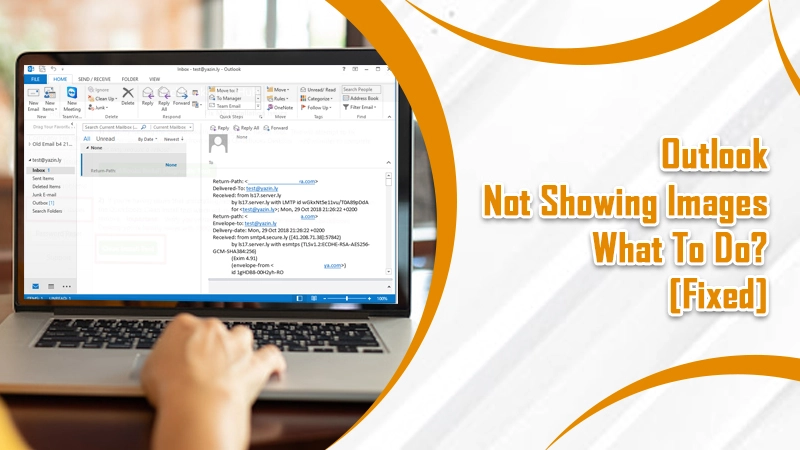 Is your Outlook not showing images when launched? Since Outlook is one of the popular email client software, it is used widely worldwide. That's one of the common issues outlook users post on forums.
The issue of Outlook email not showing images often arises due to a default configuration that blocks images from several untrusted mail senders. However, in this process, trusted mail source images also suffer. Hence, you need to tweak the default configuration and troubleshoot other causes of this error.
What are those, and how to fix them? Learn here!
Related Post: How to Stop Spam Emails in Outlook
Common Causes of Outlook Images Not Showing Images Problem
Before jumping to the solutions, it's important to understand why your outlook is not showing images. Here are the significant reasons that might help:
1. Internet connection issue
The primary issue that occurs when uploading images is due to low-speed internet. Because the high-pixel images need strong singles to download and upload.
2. Restricted by Outlook Add-ins
Sometimes, the add-ins in your outlook images restrict the smooth functioning of Outlook. The significant impact of these add-ins is reflected in downloading images in the email. As a result, your Outlook email is not showing images.
3. Enabled picture placeholder setting
If the picture placeholder settings are enabled in Outlook, an issue in downloading images and email messages may occur. Therefore, if you want the landing page to update images properly, you should disable it.
Related Post: How to Refresh Outlook
Solutions for Outlook Not Showing Images Issue
Before you move to the solutions, try some of the basic solutions. The first is to check your content connection. Or try connecting your system with another network.
Next, restart the computer and Outlook and see if it helps fix the issue. If your Outlook is not displaying images, move forward with other solutions.
Here are listed some configurational changes. You can access images on outlook email.
These are as follows:
Solution 1. Disable Blocking of Images (If Applied)
Following are the steps to remove the blocking settings of images in Outlook:
Launch the Outlook application.
Head to File.
Select Options.
Click on Trust center and then open Trust Center Settings.
On the trust center page, select Automatic Download located on the left panel side.
After that, if the option "Don't download pictures automatically in HTML email messages or RSS items" is checked, make sure you uncheck it.
Click Ok.
Now, run a test by asking someone to see an image on Mail. Also, uncheck the option Read all standard emails in plain text (go to trust Center Settings Email Security tab >> Read as plain text).
Solution 2. Multiple Images not Showing in Outlook
Often, when there are multiple images, it is seen that users cannot see images in Outlook emails.
Here is how to resolve it:
To begin, open the email message.
Go to the info bar located at the top of the message.
Tap on Download Pictures.
The images will get saved automatically.
To block images that are not showing in Outlook from a specific email address/domain:
Open a particular domain/email address message.
Right-click on the blocked image item.
Select Add the sender to the safe sender list or Add the xyz@doamin to the safe sender list.
Solution 3. Review Picture Placeholder Settings
Open the Control Panel from the search bar.
Select Internet Options.
From the internet options page, tap on the Advanced option.
Select Security Settings.
Then unselect the option Do not save encrypted pages to disk.
Click Ok.
Now check the picture placeholder settings:
Launch your Outlook application.
Select New Email from the option.
Now, go to the File and select Options.
Then tap on Mail to select Editor Options.
After that, tap on the tab Advanced from the Editor Options page.
Now, see whether the option Show picture placeholder is enabled under the Display email content section.
If yes, uncheck the box to disable it.
Then, click Ok to save changes.
Finally, restart the outlook application and see if the images are visible in the received emails.
Solution 4. Disable Antivirus Program
Antivirus programs ensure restrict and prevent any activity that can harm your system. Thus, it may have blocked your outlook images as suspected items in order to prove your device.
Hence, if you have installed an antivirus, you should check by disabling it. If it works, you have caught the culprit!
Solution 5. Clear Temporary Files
Have you applied all the methods mentioned above but still Outlook not displaying images? Maybe the temporary files in your system. It may be an invalid temp folder path or a corrupted temporary file folder.
Press Windows + E to launch the file explorer.
Paste the link on the empty address bar at the top of your browser.
C:\Users\%username%\AppData\Local\Microsoft\Windows\TemporaryInternet Files\Content.Outlook\

Press enter.
You will see temporary file folders.
Right-click on the folder and delete them.
Solution 6. Repair MS Office
If any of the following methods help, repair the Microsoft office. It will help you fix the issue of Outlook not showing images.
Go to the search and launch the control panel.
Then, select Programs.
Next, select the option Uninstall Programs.
Right-click on the options Microsoft Office from the program list.
Select Change.
A popup window will appear. Select any of the options: Quick Repair or Online Repair.
Select Repair to start the process.
Restart your system after the repair process is finished.
Bonus Tip: Reinstall Microsoft Office
Several Microsoft application errors and issues get resolved just by reinstalling it. Cannot See Images in Outlook Emails is one of these. Hence, try this tip to fix it by reinstalling the application.
First, install the app from the system and then visit the official Office website to reinstall it. It should help you fix the issue.
Final Words
Above mentioned solutions are always helpful in fixing Outlook not showing images issue. Many users have tried these solutions and benefited as well. So if you are getting the issue anytime, try these; one of these solutions should help you.
Further, connect with our Outlook support expert if you get stuck or need suggestions while following the solutions. Our experts are available 24×7 and serve across the globe.