Troubleshoot Outlook OST File Cannot Be Opened Error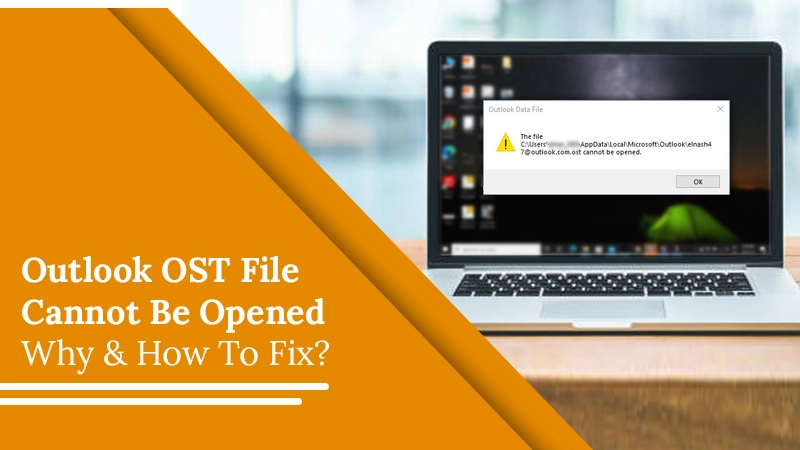 Outlook users rarely notice any issue with the application. Still, staying updated about the solutions to technical glitches that may occur sometimes is a wise practice. One of the issues relates to an inaccessible Outlook OST file. The Outlook OST file cannot be opened error is often an outcome of upgrading the application or reinstalling it. If you installed an Office update, you might encounter this error. When the OST file cannot be opened, it will render you incapable of working offline. So, there's a need to fix the glitch causing this issue. In this post, you will read about the reasons and solutions for this specific Outlook problem.
Related Post:- Why Outlook Keeps Crashing
Why Outlook OST File Cannot Be Opened Error Occurs?
The OST file in your Outlook program can malfunction due to many reasons. Here are the major ones that demand your attention. 
You have either installed an Office update or need to install an update. 

You have made certain customizations to the navigation pane. 

The OST file is corrupt.

An error during data synchronization between the Exchange server and .OST files in Outlook cause this problem. 

Many users are using the OST file simultaneously. 

There's a glitch in your Outlook application.

Sluggish internet connection 

The cached exchange mode is turned on. 

Conflicting Outlook add-ins are also a prominent cause. 
Related Post:- How to Repair Outlook PST files
Fixes for Outlook OST File Not Opening Problem
You can fix this error through a variety of simple and little advanced measures. Before going ahead, reboot your system, particularly if you have recently installed any Office updates. 
1. Use the SCANPST.EXE Tool to Repair the OST File
Damaged or corrupt OST files will prove to be problematic in every situation. You can utilize the in-built SCANPST.EXE tool in Windows to repair it. 
Look for the SCANPST tool in your system. It is present in the MS Office installation folder. 

Open the tool and find the OST file that requires a repair. 

Hit '

Start

' to scan. After it's over, click '

Repair

.'

After the repair is done, you will notice a message saying, '

Repair Complete

.'
2. Recreate the OST File If It cannot be Repaired
Sometimes, a deeply corrupt OST file cannot be repaired using the in-built Inbox Repair utility. If this is the problem with you, then you must recreate the OST file in order to troubleshoot Outlook .OST file cannot be opened error. 
Remove the OST file from your computer. 

To determine the place of the OST file, input '

%LOCALAPPDATA%\Microsoft\Outlook\

' in the Search bar. 

Hit Enter key, and you will find this file. 

Now, start Outlook again. The OST file will be made automatically by Outlook. Now you can open it easily. 
3. Disable the Cached Exchange Mode
Disabling the cached exchange mode in Outlook is also a good measure for Outlook OST files cannot be opened in Windows 10. Here is how to turn this mode off. 
After closing MS Outlook go to Control Panel. 

Search and click '

Mail

.'

Tap the button '

Email Accounts….

'

Select the tab '

Email

.'

Tap '

Exchange account

' followed by '

Change

.'

Look below '

Offline Settings

' and untick the option '

Use cached Exchange mode

.'

Select '

Next

.' After that, click '

Finish

.'

You can restart your Outlook now. 
4. Repair MS Outlook
A bug in the Outlook program prevents the OST file from getting opened. When you repair the application, the error will disappear. 
To repair Outlook using Office Repair, go to the 'Start

' area. 

Choose '

Apps and Features

 on the menu that appears.

Choose Outlook and select '

Modify

.'

Based on your Office copy, you will find an option to repair the program. 

Now just go by the directions on your screen to finish the repair process. You can now open Outlook and not worry about encountering this error message. 
5. Eliminate Every Outlook-Related Process
Killing Outlook-related processes will also help you troubleshoot the issue that's preventing the OST file from getting opened. Here is how to kill these processes. 
After closing Outlook, right-click the Taskbar. 

Choose '

Start Task Manager

.'

Now opt for the '

Processes

' tab. 

Look for these processes: '

Lync, 'Communicator, 'Lync, 'ucmapi

' or '

Outlook

.'

Right-tap the processes and hit '

End Process

.'
6. Export Your OST Information to a PST File
This fix is especially for Outlook 2010 users. When you encounter the OST file cannot be opened in Outlook problem, and cannot recover the OST file, try exporting the OST data to a PST file. Here are the instructions for it. 
Hit '

File

' in Outlook.

Click '

Open

' followed by '

Import

.'

Choose to import from a different program and hit '

Next

.'

Now choose Outlook Data File (.pst).' 

After that, click '

Next

.'

To find the PST file, you have recently imported, hit '

Browse

.'

Choose '

Do not import duplicates

.' Then click '

Next

.'

Below the tab of '

Select destination folder

,' tap a folder where you desire to import the data. 

Hit '

Next

' after doing so. 

Tap the '

Finish

' button. 
7. Disable Faulty Add-ins
Many Outlook add-ins are incompatible with the application. They also hinder the OST file from opening properly. So you must disable them to get rid of this error. 
Firstly, run the Outlook application in safe mode

. For doing so, open the Windows Start menu. Then enter '

outlook.exe/safe

.'

Your Outlook will launch in safe mode without any add-ins. 

Tap '

File

' in the program. After that, head to '

Options

.'

Hit the '

Add-ins

' option. You must also check that you have selected '

COM Add-ins

.'

Click '

Go

.' 

Now ensure that you deactivate every add-in. 

After deactivating the add-ins, start Outlook normally. It is highly probable that you would not face this error. If you can operate without any glitch, find the add-in that was causing the problem and deactivate it permanently.

You can enable other add-ins that are not causing issues. 
Final Words
The Outlook OST file cannot be opened error message can feel annoying primarily because you cannot continue working when offline. Use these effective fixes to eliminate the common causes of this issue. Additionally, ensure that you are operating with a stable internet connection. You can also avail of additional help by contacting expert Outlook support professionals.