Simple Fixes for Yahoo Account Key Not Working Problems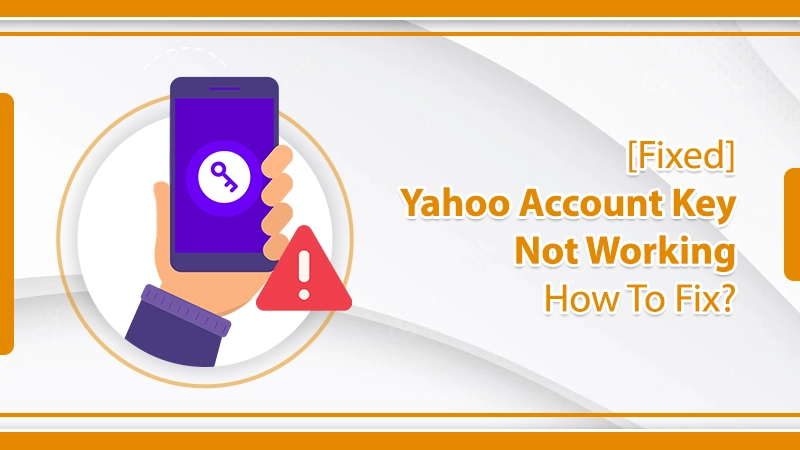 Not every person likes to remember their email account passwords. There's always a fear of forgetting them and dealing with the troublesome consequences. The Yahoo account key is an excellent feature that allows people to log in to their accounts by tapping the keycode on their smartphones. However, if you find the Yahoo account key not working for some reason, it will certainly make you alarmed. 
When this problem occurs, you might want to examine if you've switched it off inadvertently. You can also set it up again or recover your password by going to the Yahoo! Help page. Keep scrolling to discover all you can do when the Yahoo key stops working unexpectedly. 
Related Post:- How to Reset Yahoo Mail Password
Troubleshoot Yahoo Account Key Not Working
You can follow simple workarounds to use your Yahoo key effectively again. Follow these points and protect your Yahoo email account from unsecured sign-in attempts. 
1. Configure the Yahoo Account Key Again
To set up the account key, check that you have the Yahoo Mail app installed on your iPhone or Android device. After that, use these instructions. 
Sign in to your Yahoo account in the app. 
Choose the menu icon on the top-left. As per your device, you may need to select the 'Profile' icon.
Find and choose the symbol of the key besides your email address. 
Now, tap 'Set up Account Key' that shows in blue. 
You will notice a green checkmark on the 'Sample Account Key' screen. Choose it.
Now, choose 'Got it.'
Choose 'Enable Yahoo Account Key' and verify your contact number. 
Lastly, select 'Great, got it!' You can start using your account key. 
2. Update Your Yahoo App
Many people complain of not getting account key sign-in notifications. You can fix Yahoo account key problems like these by just ensuring that you have the latest version of the Yahoo app on your device. 
If you operate with any old Yahoo app versions, you'll confront many issues. This is because Yahoo keeps updating different features of its email service. So navigate to the Play Store or App Store and look for the latest version of the Yahoo Mail app. 
Related Post:- What Is Yahoo Account Key
3. Enable Yahoo Account Key 
Probably the most important reason for finding the Yahoo account key not working is that it is not enabled. Follow these points to enable the key and start using it without problems. 
Log into your Yahoo Mail account on a web browser. 
After signing in, tap on your name or profile picture. It will be there in the top-right portion of the screen.
Choose 'Account Info' from the drop-down that shows up. 
You will find yourself in the 'Account Info' section of your email account.
On the left-side panel, there will be an option for 'Account Security.' Click on this option. Remember to input your email password. 
In the Account Security window, click the option 'See how it works.' You will find it near 'Secure your account with Yahoo Account Key.'
When you tap 'See how it works,' you will arrive at the subsequent screen. Now, you will need your smartphone to enable the account key feature. 
On this screen, tap the 'Send me a notification option. 
Yahoo will send an alert on the app you have installed on your phone. 
Moving forward, tap 'Yes, send me a notification.' You will find a notification on your phone which will go like this: 'This is a sample Account Key'.
Tap "Yes" to sign in or "No" to deny access to an unauthorized sign-in.
You can choose 'Yes' or 'No' as a response. Navigate to your browser. 
You will be asked if you want the feature of the Yahoo account key or not. 
To enable the feature, click 'Always use Yahoo Account Key. 
Next, enter your contact number in the provided field.
Hit the Confirm button.
4. Fix the Problem of Not Getting the Account Key Code
Did you send a request for the Yahoo account key but didn't' get it? Implement these checks if you find the Yahoo account key code not working.
Do not input a landline number or SMS code to get the account key. You can receive it only on a verified mobile number. 
Do not input wrong account information. Be very attentive while typing the number. 
To enable the account key feature, you will need your credential. If you cannot recall it, create a new account. 
Do you use a third-party app like Outlook to access your Yahoo email account? If so, you must produce an app password to use your account. You can generate it from your email account's 'Account Security section. 
If you receive the 'Uh-oh' sign-in error message, it implies that you have gone beyond the specified number of messages allowed daily. You can do nothing more than wait for 24 hours. Only after that can you sign in to your account. 
Check that you are attempting to access the right account with your account key. 
Yahoo doesn't support some carriers and devices. It is best to ensure that the device you are using is fully supported by Yahoo Mail. 
5. Access the Yahoo Account Key If You have Lost Your Old Number
Many people wonder how to access the account key when they no longer use their old number or mobile. When you have a new device, you can follow these points to access your Yahoo account key and use it. 
Firstly, head to the App Store or Play Store and download the Yahoo Mail app. 
Open it and touch 'Sign In.'
On this page, input your username and click 'Continue.'
You will get a code on your phone. Check it and touch 'Sign in.'
Now you can easily access the account key on your new mobile. 
Final Thoughts
Hopefully, this long post will prove helpful when you notice the Yahoo account key not working. Use these solutions to access it, get notifications, and use it on your new mobile phone. You can also go through the handy tips mentioned in case you don't receive the account key code. If you face any other issues, feel free to speak to Yahoo support experts.