How To Export Outlook Calendar To Excel On Your Windows PC?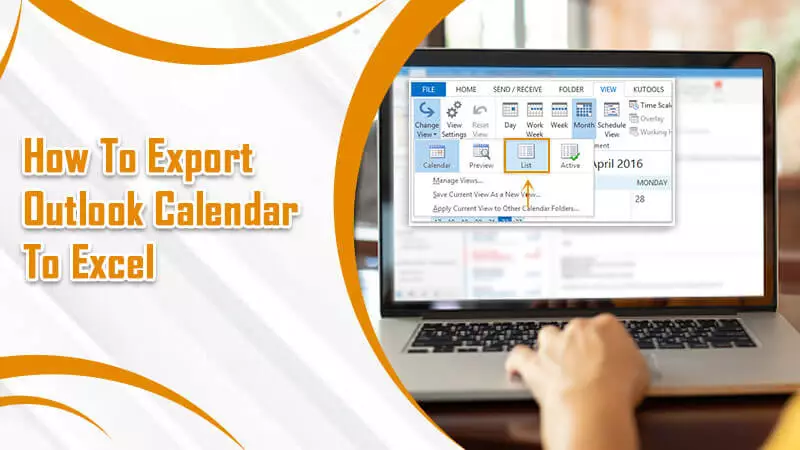 Converting the calendar from Outlook to Excel Spreadsheet would be the best possible technique when you need to share a calendar with others. But, the matter is how to Export Outlook Calendar To Excel on your operating device. Fortunately, Microsoft Outlook makes it super easy to export calendar data into a comma-separated values (CSV) file. That file can be frequently opened in Excel, Google Sheets, or any data analysis package and seamlessly track, analyze, or sort your data.
In this post, we will walk you through the various simple methods to export your calendar. So, if you want your calendar to be Exporting From Outlook To Excel, feast your eyes on the given directives.
Why Outlook Calendar Is Needed To Export Into Excel Spreadsheet?
A Calendar contains relevant pieces of information about events and meetings. A couple of reasons why exporting your Outlook Calendar into an Excel Sheet is important are enumerated beneath. Let's have a glimpse:
You can analyze your event effortlessly
Event-related information is organized in neat and clean rows, especially in MS Excel. So, details can be viewed without even opening individual events if you properly Export Calendar From Outlook To Excel.
Using the exported calendar in Excel can also be helpful in customizing the details that are appeared for each event.
Users can also have the authority to delete the columns from the spreadsheet if the event id is private.
Also Read: How To Export Contacts From Outlook
Learn Different Methods To Instinctively Export Outlook Calendar To Excel
The following methods will lead you to instantly and proactively Download Outlook Calendar and export it into MS Excel Sheet. Let's begin to implement:
Method 1: Export Calendar To Excel By Copying & Pasting
Copying an Outlook Calendar and pasting it into Excel is a straightforward method. Thus, let's do it using the below-noted steps:
First and foremost, you need to open the Outlook Calendar that you want to export.
Thereafter, click the "Change View" tab that appeared beneath "View."
Now, select "List." Now, ensure that Outlook converts your events into a list, where the entire information related to your meetings, appointments, etc., is visible.
Next, you are required to select the specific events that you want to transfer from Outlook to Excel. You can even though select all events by pressing the "Ctrl" + "A" keys altogether in order to Export Outlook Calendar To Excel.
Afterward, you have to give right-click on the chosen items and then select the "Copy" option. You can even press the "Ctrl" + "C" keys altogether to copy the events to your clipboard.
Now, open a workbook in the MS Excel Sheet.
Give a right-click on a blank cell and click the "Keep text only" tab that appeared just beneath the "Paste options."
The list of events will now be appearing in the spreadsheet of your Microsoft Office Excel program. You can see the top-to-toe details like subject, location, and time.
Also Read: How to Download Emails from Outlook
Method 2: Use Export Feature in Outlook
Fortunately, Outlook has an Export feature to straightforwardly transfer your Outlook Calendar to MS Excel. The desired steps are as:
Step 1: Create A CSV File From Outlook
Beneath, you will learn How To Create A CSV File From Outlook:
First and foremost, launch MS Outlook on your Windows.
After that, go to the "File" menu and click "Import and Export."
Now, select the "Export to a file" tab and press the "Next" button.
Now, choose the specified folder i.e., Outlook Calendar that contains the pieces of information that you want to export.
Afterward, select either "Comma Separated Values (DOS)" or "Comma Separated Values (Windows)" as the file type to create.
Now, click "Next"
Click "Browse" to identify the directory and filename to which you want to save your file. Choosing the file name and selecting the preferred location will ease to Export Outlook Calendar To Excel.
Now, click "Next."
Once it's done, click "Finish."
Step 2: Customize & Export
Now, it's required to customize and Export Shared Outlook Calendar To Excel:
After providing the relevant CSV file name and ensuring "Comma separated values" appear next to the "Save as type" option, click "OK."
Hit "Next" to continue following.
Now, click the "Map Custom Fields" tab to begin customizing the desired fields that you need to export.
Moreover, you can click "Default map" in the below right corner to comprise the preferred fields in your calendar.
Now, once done, click "OK" and tap "Finish" sequentially.
Afterward, enter a start date and end date into the respective box. After specifying the dates, all events, appointments, or meetings that will be scheduled between the two dates will appear. All you need is Download Outlook Calendar To Excel for getting notified every time your upcoming events will be held.
After adjusting the date range, click "OK."
Now, finally open and analyze the Excel file.
Hence, keep an eye on information through the Excel file despite opening Outlook Calendar to look for any events.
Also Read: How to Backup Outlook Emails
Method 3: Manually Export Outlook Calendar to Excel on MAC
MS Excel has the efficiency to hastily and effortlessly manage events, reminders, etc even on a Mac computer. That's why; it would be an optimum decision to Manually Export Outlook Calendar To Excel on your Mac device. Here are the intuitive directives for the conversion of Outlook Calendar into Excel on Mac:
First of all, launch Outlook on your Mac Computer.
Then, navigate to the "Calendar" option.
And, choose a Calendar file you would like to convert into CSV.
Now, drag the "Calendar file" and drop it to the desktop. Keep doing the same for every Outlook Calendar file.
The above-listed fruitful guidance is effective in lending you a hand to Export Outlook Calendar To Excel on Mac PC.
Also Read: Import Contacts Into Outlook
Outlook 24/7 Online Support To Export Outlook Calendar To Excel
Now, you are free to open the .csv file with Excel to identify all the appointments and manage your events in a well-organized manner. Hoping the aforementioned tricks and tactics are enough for you to understand how to Export Outlook Calendar To Excel.
But, if still, you have some queries, feel free to ask for one-stop Outlook 24/7 Online Support. The top-most qualified tech specialists will aid you to get your Outlook Calendar exported into Excel budget-freely.
Thus, contact them via a round-the-clock accessible helpline number for advanced and hurried guidance.