How to Backup Outlook Emails – Complete Guide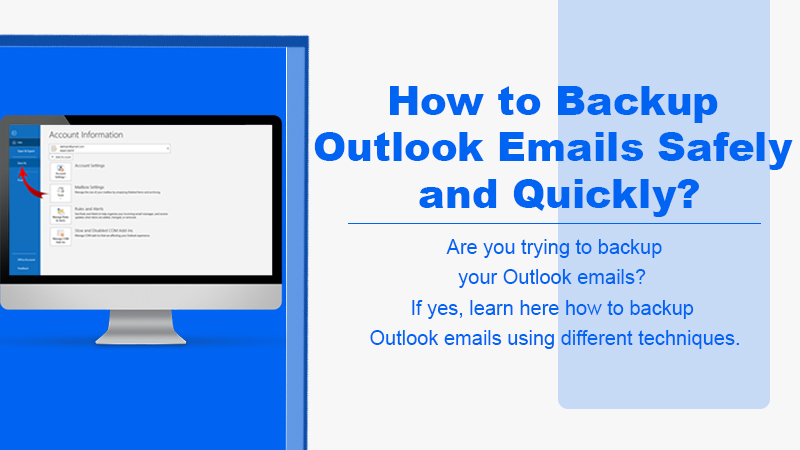 Researchers estimate that there are billions of email subscribers. An email has become an essential component of the corporate process and a favored communication tool during the last decade. On the contrary, most of the information transmitted through email is not kept anywhere else but instead stays in the users' inboxes. Thus, if your MS Outlook account contains any important business data, you'll want to know how to backup outlook emails.
Why Backup Outlook Emails?
While you may not consider backing up your Microsoft Outlook email messages, you should. Why? Here are the reasons:
What if you were unable to access your email account? 

Your account's email information would be deleted. 

The most frequent reason for individuals to lose access to their email accounts is that they forget their passwords. Although you can reclaim your email, the process may take a longer time.

The other reason individuals lose access to their email accounts is as a result of a hack. If your Outlook email account has been compromised, regaining access may be tough. Your email data will still be retained if you have a recent Outlook backup file.
Hence if you use your Outlook email account for professional purposes, you should backup Outlook emails.
Read Also: How to fix the Microsoft Outlook working offline error?
How to Backup Emails from Outlook – Various Techniques
Option 1. Export Outlook Emails to PST Format
The first method of backing up your Microsoft Outlook email is to export it to Outlook PST format. Prior to learning how to export Outlook data to this format, you may be wondering what an Outlook PST file is, and how it differs from an Outlook OST file.
A file with the.pst suffix (or PST format file) is a file that Microsoft Outlook and Microsoft Exchange utilize. You can save the following kinds of Outlook email data to a PST format file:
Electronic mail folders

Information about how to contact us

Information about your address

Calendar data from Outlook
An Outlook PST file may be accessed directly from the machine or server on which it was stored. Additionally, you may transfer a PST format file to another place.
PST files are different from OST files (OST files). The Outlook OST file format enables offline access to a copy of a file saved on your Microsoft Exchange server. When you reconnect to the Internet, the file is synced.
Option 2: Create a Backup of Outlook PST files Manually
Here are the steps for manually creating backup outlook emails in Outlook PST file format. Begin by clicking the File tab in your Outlook mailbox. The Account Information screen is shown as follows:
Select the Open & Export menu item.

Click the Import/Export icon to the right. After you click on Import and Export Wizard, you are taken back to your inbox.

Click the Next> button at the bottom of the dialog after selecting the Export to a file option. You are prompted to choose a file type by the Wizard.

Choose an Outlook Data File (.pst) based on the file type you want. To proceed, click the Next> button. Following that, you're asked to choose an Outlook folder from which to export data.

Scroll up and down the scrollbar to see all of your existing Outlook folders. Click the Next button, moving onto the selection of the folder.
Option 3: Transferring an Email Message to a Different Email Account 
If you have another email account, forwarding an email to another account is a fast and easy method to make a backup copy of an email. In this case, the attachment will be sent as well.
The first step is to open the Outlook email that you wish to save. In the Ribbon, click the Forward button. If you wish to send a copy of the backup email to several addresses, enter them here.
Option 4: How to Drop and Drag Emails into File Explorer Folders?
Drag a single email message from your Outlook inbox into a File Explorer folder for quick and simple backup.
You should open the Outlook folder that contains the message you would like to back up. Then go to the location where you wish to save the backup email message in File Explorer.
To make a backup email copy, right-click on the email message and drag it into File Explorer.
The email that was copied into File Explorer has been added as an Outlook Item to the folder (not a PST File). When you double-click the item in File Explorer, Outlook opens.
Option 5: Exporting Outlook Emails to HTML or TXT
Another way to save an Outlook message as an HTML or TXT file is to save the email as an HTML or TXT file. You may then upload the file to the cloud. If you prefer, you can also attach an email to the document.
To begin, enter your Outlook inbox and click on the email message you want to back up. At the top of the screen, click the File tab. Click the Save As option on the left. The File Explorer window appears. Choose the location for your backup email message. Click the arrow to the right of Save as type at the bottom of the screen. Choose the file type in which you wish to store the email.
Conclusion: We hope that after following the above-mentioned steps, you have understood how to backup outlook emails? Your email account almost certainly includes a wealth of vital information, and it's not only mail that you might lose. If anything goes wrong, you risk losing your contacts, critical email attachments, and even calendar dates. In case you are not able to backup outlook emails, then you can contact us. We have Outlook professionals with the required expertise who can guide you.