Troubleshoot Gmail Not Downloading Attachments Issue Like a Pro!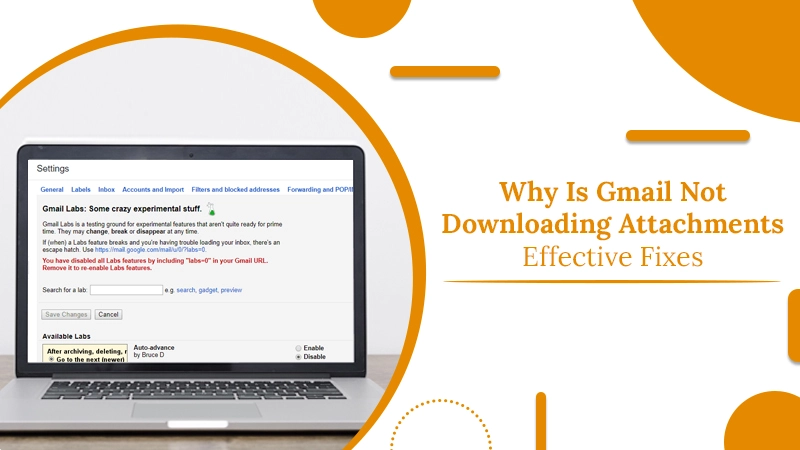 Emails allow you to share documents, promote your business, and track work-related tasks. You might use your Gmail daily to receive emails. However, a difficult situation can arise when you find Gmail not downloading attachments. Well, the resolutions for this problem are quite simple, like updating the browser, disabling antivirus, clearing cache, and allowing background data usage on mobile. But sometimes, the problem can be because of an unexpected issue in Gmail servers. So, in that case, you can only wait till Google addresses the issue. Keep reading to know how to make your Gmail download attachments speedily like before. 
Related Post:- Why Gmail Not Receiving Emails
Basic Troubleshooting When You Can't Download Attachments from Gmail
The resolutions for this problem can be divided into two sections. In the first one, we'll go through some basic troubleshooting techniques. Most of the time, they are enough to resolve the problem. However, if, even after implementing them, you still find yourself unable to download attachments from Gmail, you can progress to the advanced measures.  
1. Check Google's Servers
The files you want to download come from the servers. So if Gmail servers are not functioning properly, you'll be unable to download attachments. Checking Gmail servers is easy. Just go over to the status page of Google. 
You'll find whether the servers are down or not. If they are, you can only wait. But if not, move on to the next troubleshooting measure. 
2. Access Gmail Via Third-Party Clients
It's also possible to access Gmail through third-party clients. Both Mac and Windows users can use a Mail app to access emails from your address. So, if you cannot download attachments from Gmail, use the Mail app on your Mac or Windows. 
3. Ensure that You have a Good Internet Connection
Often, Gmail won't download attachments in the presence of a poor internet connection. If you have implemented the fixes above but still cannot download attachments from Gmail, you must examine your network connection. It's possible that it's unstable or poor.
It's easy to find the upload and download capacity of your network. Just navigate to a website like Fast.com and run a test. If you find the result showing a problem, you will need to take measures to fix it. Start your modem again to reestablish the connection. You can also take away the router from its outlet and plug it back after 10 seconds. Then, run another test to check if the problem is still there. 
Related Post:- How to Stop Receiving Duplicate Emails in Gmail
Advanced Resolutions for Gmail Not Downloading Attachments Issue
Don't feel hopeless if your problem is still unresolved. Here are some advanced yet easy fixes you can use.
1. Switch off Gmail Labs
This fix is for those who don't prefer using third-party email clients. The Gmail Labs is beta functionality, enabling you to access features yet to be released. But as these features are not fully developed, they can cause issues like Gmail not downloading attachments. So, by turning off Gmail Labs, you can troubleshoot the glitch and download emails easily.
Hit the '

Gear

' icon on the top-right part and select '

See All Settings

.'

Navigate to the '

Advanced

' tab and disable the features below it.

After that, try downloading attachments. You won't face any issues.
2. Turn Off the 'Do not save the Encrypted Page on Disk' Setting
If you cannot download attachments from Gmail, give a thought to the 'Do not save the encrypted page on disk' setting. Often, the feature is enabled, which prevents users from downloading the attachments. So, disable it by following these simple steps.
Hit the Windows button on your keyboard.

Now input '

Internet Options

.'

The '

Internet Options

' window will open. Here navigate to '

Advanced Setting

.'

Uncheck the option, '

Do not save the encrypted page on disk

' and tap '

OK

.'
3. Turn Off the Antivirus
Antivirus programs often interrupt the working of websites and browsers. To fix this issue, you must disable them temporarily. Then, try downloading attachments. If you can download them, it means that your Firewall or Antivirus was conflicting with the download. You can permanently remove this specific antivirus software and install another one in its place that doesn't interfere with file download. Here's how you can disable antivirus. 
Launch the '

Start

' menu. 

Input '

windows defender

' and click on its result.

Next, tap '

Turn Windows Defender Firewall on or off

.'

Choose the button beside the '

Windows Defender Firewall (Not recommended)

' option and click '

OK

.'
4. Disable the Data Saving Mode
Usually, users who cannot download attachments from Gmail from their phone generally have a kind of data saving mode enabled. It blocks Gmail from effectively using mobile data. You must allow background data usage to download attachments from Gmail.
Android users must click on '

Apps and Notifications

' in their app setting. Locate '

Gmail

' and navigate to '

Mobile data and Wi-Fi

.' Now, turn on the options of '

Unrestricted data usage

' and '

Background data

' below '

Advanced Settings

.'

iPhone users should launch the '

Settings

' app and click the '

Mobile data

' option. 

Now, locate the Gmail app and toggle the switch beside it. 
By following these steps, the Gmail apps on your phone will have full access to mobile data. You will not face any problems downloading email attachments. 
5. Reset Employee Data by Logging in Again
If there's a temporary bug or glitch that is preventing Gmail from downloading attachments, you must consider resetting the account data. It can be done by reclogging your account. 
To re-login, tap '

Profile

' on your Google account to see the drop-down.

Next, opt for the '

Sign out of all accounts

 option.

Now, wait for three minutes and log into your Gmail account again.

Send an email attachment to your account and see if you can access it.
Concluding Thoughts
Hopefully, these resolutions will work for you whenever you find 'Gmail not downloading attachments.' Use one or more techniques listed above. But if none of them works, it's best to report the issue. When you do that, give all the requisite details so as to find a fast resolution. You should also seek the advice of Gmail technical support professionals for the same.