Gmail not syncing could be a problem if you wish to change your device soon and don't want to go through the trouble of transferring everything manually. There could be quite a few reasons as to why you are having a hard time when it comes to Gmail syncing.
It could be because of an error and till the time you don't fix it, you won't be able to sync again. If the error doesn't go automatically then the device will end up hanging.
Majority of the transfer errors source to either sudden bugs in the network connectivity or timeouts connected to the sending or receiving of large data files. You can miss some important emails due to such issues that will not be a preferred situation to be in.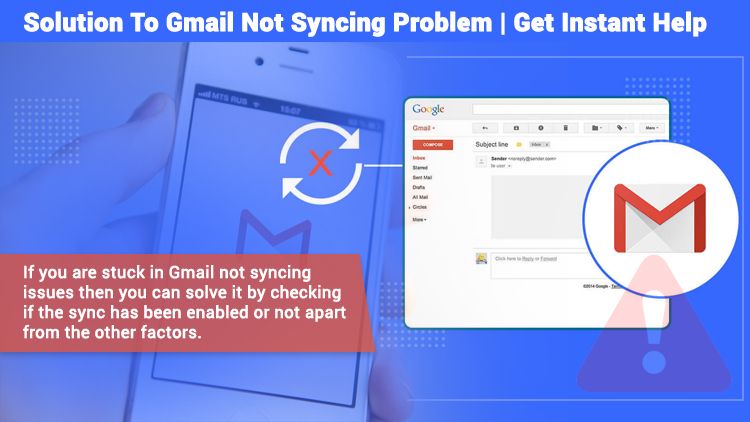 Ways to handle Gmail not syncing issue
If you are stuck in Gmail not syncing issue then you can start with checking if the automatic email sync is activated or not. You can also start manual sync and if you don't know the steps then don't worry as we will be sharing them with you below.
Check if automatic email sync has been enabled or not
The majority of the email clients have automatic sync permitted so you can receive emails without any postponement. However, if you have altered any settings related to email sync then that can disturb how apps sync your emails.
You can see if this is why your emails aren't syncing by allowing the auto-sync selection in your email app. The app should then mechanically look for new emails and inform you when a new message reaches.
You can allow auto-sync from the settings menu of your email app as well. You can do it by referring to the steps mentioned below:
Open the email app

Tap the icon at the top-left corner and click on '

Settings

'

Pick an email account if you have numerous accounts added to your phone

Scroll down and ensure that the '

Sync Gmail'

or a similar option has been activated
Initiate a manual email Sync 
If automatic sync fails to work for you then you can opt for the option of manual sync. This allows your email app to sync, find, and download new emails to your device.
This will work just like the regular sync, but you need to manually go into the settings and do it. You can do it by referring to the steps mentioned below:
Open the

Settings

app and go to

Accounts

Tap the email account with which you are having the sync issues

Click on the

Account sync

option to see all the features that you can sync

Select the three-dots at the top-right corner of your screen and tap on

Sync now

Your phone will start to sync your data and your emails

If any new emails are available then you will be able to see them in your email client
Clean the storage
Even emails take up space in the phone's memory and if you are low on storage then it is obvious that your emails won't sync. If it has an attachment then you won't be able to download it too. You can fix this by following these steps:
Open

Settings

and click on

Storage

You will come across the total and free memory space on your device

Click to

Free Up Space

to find files that you can remove to make some space on your device
Check the password
When you change the password for your email account, you must update it in the email app on your phone too. If you fail to do so then your device won't be able to sync new emails. It is so because it doesn't have the approval to do so.
You can fix the problem of Gmail not syncing by opening your email app and feeding in your new password. The app will then connect to the email servers and get you the latest emails. Always make it a point to update the password everywhere else you use that account whenever you make a change in the password.
Clear cookies and cache
Your email app saves data and cache files on your phone just like any other app. While these files don't usually cause the problem, it's always a good idea to clear them to see if that fixes the email sync issue on your Android device or not. You can delete the files by following these steps:
Go to the

Settings

app and tap on '

Apps & notifications

Find your email app and click on it

Click on the

Storage

tab

Select

Clear Cache

to remove the cached data. You can also click on '

Clear Storage'

if you want.

You should know that this will remove all the app's data from your phone

You will be required to sign in again and do early sync of your messages

Open your email app and reconfigure it if required
Update the Email App
You should always keep your apps updated no matter what. If you have not updated it in quite some time then you can go to the Playstore and check for an update and then install it.
The latest updates also help to fix any errors or bugs in the app and if Gmail not syncing is because of it then it will work in your favor too.
Open the

Play Store

on your device

Search for your email app or open the left sidebar and click on '

My apps & games'

 to look for apps whose update you have not yet installed

If an update is available then click on '

Update'

to download and install the update
If you are still not able to resolve the Gmail not syncing problem then you might be having an issue with the email account configuration.
Re-add the email account
You can remove and re-add your account to the app to fix it. You can also confirm the settings to make sure that nothing has been misconfigured.
You will first be required to remove your email account from the app.

Go to Settings and then click on Accounts

Touch on an account and choose to 'Remove account'

Re-add the same account in your email client
Enable notifications
It is also a possibility that you get the emails but you have turned off the notifications so you don't get to know about it. You can solve this problem by activating the notifications by referring to the steps mentioned below:
Go to the Settings and then click on Apps & notifications 

Touch your email app

Click on the 'Notifications'

Turn on the toggle for all 'Show notifications' options to 'On'
You can connect with the Gmail support team if you still face Gmail not syncing problem. We will assist you to the best of our knowledge.