Gmail Not Syncing on Android, iPhone, or Outlook App? Let's Fix It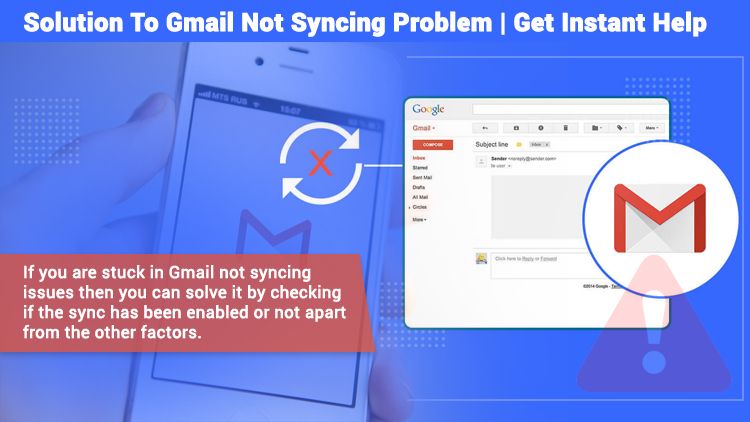 Gmail is indeed one of the most efficient email services that countless people utilize for both personal and professional purposes. But sometimes, certain problems in it can hinder people from using it to communicate with each other or carry out their work. When people find Gmail not syncing with their phones, they aren't able to exchange emails or read any incoming emails. It can turn out to be pretty annoying as it hinders people from doing urgent tasks. Fortunately, there are ways by which you can fix this problem. In this article, you'll find stepwise instructions on how you can get your Gmail synced with your phone.
Why is Your Gmail Not Syncing?
There are various reasons that prevent Gmail from syncing. Some of the factors that lead to this issue are as follows:
The user isn't using the latest version of the Gmail application.
The user has turned off the sync settings in the Gmail app.
There are internet connection problems.
Inadequate storage is also one of the leading causes of Gmail not synchronizing.
An anomaly in the data transfer. Transfer errors are generally because of sudden glitches in network connectivity. They can also be because of timeouts associated with receiving or sending huge data pieces.
Fix Gmail Not Syncing Problem on Android
You can use several troubleshooting fixes to resolve this situation in your Android devices. From updating the Gmail app to checking your Gmail sync settings, there's a lot you can do.
1. Update Your Gmail App
If your Gmail is not updated, you can face issues syncing your emails. Resolve it by updating the app.
Open the Play Store on your Android device.
Click the search bar and look for Gmail.
Tap on 'Gmail,' and if you see the 'Update' button, click it to get the current version.
2. See the Sync Settings of Gmail
Whenever you find Gmail not syncing on Android, it's time to check the sync settings in the app. You should turn on the Gmail sync settings. Many people unknowingly turn it off and then complain of their Gmail account not syncing. Follow these steps to enable the sync settings.
Launch the Gmail app and hit the 'Hide menu' button.
Click 'Settings' and choose your account.
Scroll down and check that you have enabled 'Sync Gmail.'
3. Inspect the Account Sync Settings
If you don't enable the automatic synchronization for Gmail in the account settings, Gmail will not synchronize till you manually refresh the app. Check account sync settings after you enable 'Sync Gmail' in your Gmail app.
Launch the 'Settings' app.
Go down and choose 'Accounts.'
Scroll to the bottom and ensure to turn on 'Auto-Sync Personal Data.'
Now, from the list, choose your Gmail account.
Click 'Account Sync.'
Ensure to enable Gmail.
Click the 3-dot button and choose 'Sync Now.'
If you want sync Gmail contacts with Outlook you can read this post.
4. Check Your Internet Connection
At first glance, it may not seem an effective measure, but an internet connection is necessary to access Gmail. Run a network test on your browser to check if you have a working internet connection. Open a website and see if it's quickly loading. If it doesn't load, you need to fix your network rather than Gmail.
Solutions to Fix Gmail Not Syncing on iPhone
iPhone users can also find Gmail syncing problems on their devices. The resolutions explained below will help you fix them.
1. Check that You are Connected to the Internet
You cannot send and receive emails on your iPhone if you aren't online. It means that you should be connected to the internet. Check that the signal strength is strong and you haven't mistakenly configured your iPhone in airplane mode.
2. Check that You've Enabled IMAP in the Mail Settings
Google makes use of the IMAP server for transferring emails on iPhone devices. If it is not enabled on your iPhone by default, then it's likely that you'll find your Gmail not syncing on your iPhone. So you should enable it. Navigate to the settings of your Gmail app and turn on IMAP.
Also Check: Gmail IMAP Settings | Here's The Complete Guide To Do It
3. Check Your Gmail App is Updated
When did you last update your Gmail app? It is also an important measure that you should take on finding Gmail syncing issues on your iPhone. The old Gmail app version may not synchronize, thus resulting in this issue. Moreover, updating the app from the Apple store is simple. You just need to check if there is an updated version available. If it is, install it.
4. Reinstall the Gmail Application
Lastly, you can reinstall the Gmail application on your iPhone if you find the measures listed above not working. For reinstalling the app, first, uninstall it and then reinstall it.
Troubleshoot Gmail Not Syncing Issue on Outlook App
Have you linked your Gmail account with the Outlook mail app of Windows 10 but found that it isn't syncing your emails? Try out the various measures given below.
1. Check Mail App Settings to Enable Synchronization
Often users disable automatic syncing accidentally. If this is the case, you can re-enable it and resolve the issue easily. Follow these points to do so.
Launch the mail app on your laptop.
Tap the 'Settings' icon. It's present at the left panel at the bottom.
Next, hit 'Manage Accounts' Choose your Gmail account.
Next, choose 'Change mailbox and sync settings.'
Below 'Sync options', see that you enable 'Email.' After that, click 'Done.'
2. Delete the Gmail Account and Add It Back
Another effective fix to implement when you find your Gmail not syncing with Outlook is to delete your Gmail account. After deleting, add it back. Follow these steps.
Launch the Mail app.
Navigate to 'Settings' followed by 'Manage accounts.'
Then select your specific Gmail account.
Tap 'Delete account from this device.' Click 'Delete.'
Next, add your Gmail account to the mail application once more.
3. Check the Internet Connection
It's also an effective way to put an end to Gmail not synchronizing problems. Do you know how to check your internet connection? If not, just open a website and check if it's loading.
4. Use the Recent Version of the Mail App
If you are not using the latest version of the mail app, it's highly likely that you will face the syncing problem. The solution is simple. Go to the Microsoft store and update your mail application. After you update it, Gmail will start syncing with Outlook.
Final Words
These are some of the best resolutions that people who find Gmail not syncing with their devices can try. You'll definitely get the result you want with them. But don't worry if Gmail refuses to sync even after you carry out these fixes. You have the aid of our professional Gmail customer service staff at your disposal. They are available all day and night, so you can freely contact them and get rid of all technical glitches.