Gmail Not Working on iPhone? – Try These Working Fixes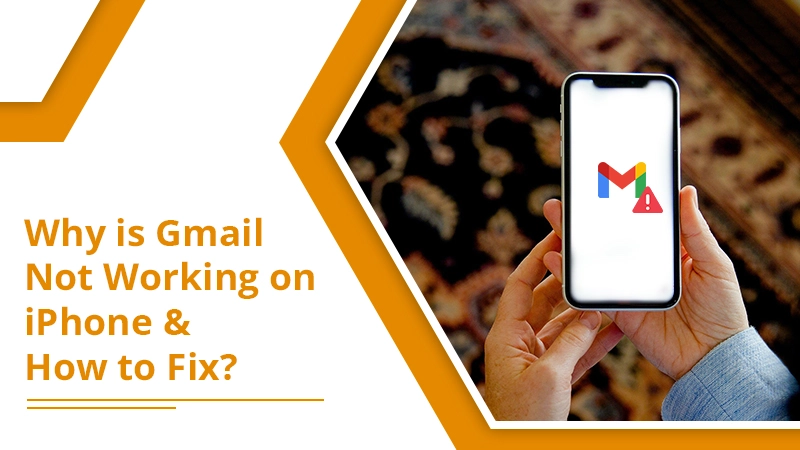 Have you just entered the Gmail password on your iPhone and are waiting for it to load so you can access your messages and alerts? Do you find that even after two to three minutes, Gmail not loading? Well, consider yourself one among the many who are stuck with Gmail not working on iPhone problems.
Usually, the typical reason for this problem is security. Google will not let you access Gmail on your iPhone if you are on vacation in a different region. But if that's not the case, the problem can be either in your iPhone or the Gmail app. Whatever the cause, in this article, you'll find all the different ways to make Gmail work on the iPhone.
Simple Resolutions for Gmail Not Working on iPhone
Gmail blocks sign-in attempts for a variety of reasons. So, there's no single fix for this issue. Implement these basic measures first and see if Gmail starts working.
Restart your iPhone – If Gmail isn't working due to a minor glitch in a background process or an application, restarting the iPhone will work. 
Check your recent sign-in attempts on Gmail – Just head over to the 'Device Activity & Notifications' on Google's website. Here, you can see all the recent sign-in attempts into your account. After signifying Google that it was you who signed in to your account every time, the email should start loading on your iPhone. 
See the Google Workspace Dashboard

– By seeing the dashboard, you'll find out if there's any service outage or disruption on the part of Google. 

Conduct a CAPTCHA reset – The CAPTCHA reset in Google turns on some of its security features to enable new devices to link to Gmail. Do a CAPTCHA reset by navigating to its page on Google and signing with your credentials. Now, sign in to your Gmail on your iPhone. You shouldn't face any problems. 
Check for alerts in Gmail – When you cannot sign in to Gmail, you'll get an email on the same Mail. Try to open this message on another iPhone. Then click the 'Review your devices now' option inside this email. Adhere to the prompts to enable Google to ascertain that the sign-in attempt was by you. 
Advanced Fixes for the Gmail iPhone Not Working Issue
Are you still finding it difficult to access your Gmail on your iPhone? You can use these advanced fixes to troubleshoot the glitch that's preventing Gmail from working.
1. Enable Gmail IMAP using the iPhone
Gmail utilizes the Internet Message Access Protocol or IMAP to deliver mail to your iPhone. If it's switched off, you'll find Gmail on your iPhone not working. Follow these points to enable IMAP.
Head over to the Gmail.com website.

Do not accept the suggestion of using the Gmail app.

Touch the hamburger icon and scroll at the end to tap 'Desktop.'
Tap 'Settings' followed by 'Forwarding and POP/IMAP.'

Ensure that IMAP is enabled.
Steps to Turn on Gmail IMAP using the Computer
Hit the 'Gear' icon on the Gmail website and select 'Settings.'
Now click 'Forwarding and POP/IMAP.'

See that IMAP is enabled.
Related Post:- Why IMAP.Gmail.Com Not Working on iPhone
2. Check If You have Restricted the Mail App
It's common for people to mistakenly restrict the Mail app. If you find yourself guilty of this mistake, don't worry. Just follow these points to disable iPhone restrictions.
Launch 'Settings' and touch 'Screen Time.'
Now touch 'Content & Privacy Restrictions.'
Click 'Allowed Apps.'

You must check the toggle of the Mail app. It should be green.
3. Setup Your Gmail Account Again
If you find Gmail not working on iPhone even after trying a couple of fixes above, you'll be better off removing your current Gmail account altogether. After removing it, set it up again. 
Launch the 'Settings' and click 'Mail.'
Tap 'Accounts' followed by 'Gmail.'
Now, click 'Delete account' and then choose 'Delete from my iPhone.'

Start your iPhone again. 

Next, add your Google account once again to access Gmail. 
Steps to Adding Google Account
Launch the 'Settings' app, scroll down and click 'Passwords & Accounts.'
Click 'Add account.' 
From the email provider's list, click 'Google.'

You'll see a pop-up asking your permission. 

Click 'Continue' to go to the Google account's page. 
Input your Gmail ID and click 'Next.'

Now, input your password. 

After verifying your credentials, you will be presented with some syncing options. 

Let the toggle for Mail remain 'ON.'
Now, click 'Save' on the top-right part. 
4. Restore iPhone to the Previous Backup
Restoring the iPhone to the previous backup means doing a factory reset. At times, a system error results in Gmail not working on iPhone problems. Before implementing this resolution, backup your data through either iTunes or iCloud. Now follow these points.
Disable the 'Find my iPhone' functionality.
Navigate to 'Settings' and touch your name.
Next, tap 'iCloud.'
Swipe the slider of 'Find My iPhone' to the 'OFF' position.
Scroll down and touch 'Sign Out.'
Now head over to 'Settings' followed by 'General.'
Choose 'Reset' followed by 'Erase all Content and Settings.'
To restore the last backup, tap 'Restore from iCloud Backup.'

Touch the backup you prefer to restore.

If you are restoring to a previous version using iTunes, connect your iPhone to iTunes first.

Now tap the 'iPhone' icon on the iTunes screen.
Tap' Restore Backup.'
Find your preferred backup from the drop-down of 'iPhone Name' and tap it.
Finally, click 'Restore.' 
Related Post:- Why Gmail Search Not Working
Fix Gmail Not Working on iPhone with iOS 6 and Previous Versions
Many users operate on iOS 6 or versions earlier than that. The problem of Gmail not working on these iOS 6 versions is also common. So, here are the steps you must take to fix it.
Tap 'Go' on your mobile Gmail site link.
Now tap the 'View Gmail in Desktop' link. It is present at the bottom of 'Settings.'
Tap the Gmail account profile picture. Now tap 'Google Account.'
Next, tap 'Device Activity & Security Events.'
Head over to the 'Allow less secure apps' subheading at the end of the page.
Move the slider to the 'ON' position.
Wrapping Up
Evidently, there's a lot you can do to find Gmail not working on iPhone. First, check if the problem stems from security concerns or if the Google servers are down. You can then progress to the other fixes. If you need more help with this issue, connect with expert Gmail support services.