How to Encrypt Email in Outlook – Different Methods Explained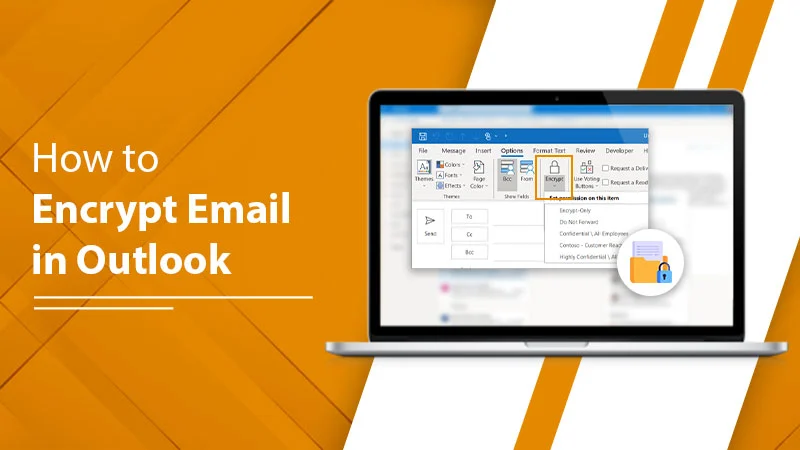 Today, it has become essential to secure emails because of the rise in cybercrimes. The privacy of an email message can be protected by encrypting it. Learning how to encrypt email in Outlook makes the message decipherable to only the recipient. They have a private key that corresponds with the public key used to encrypt the email.  
Outlook supports S/MIME encryption and Microsoft 365 Message Encryption. Attachments are also encrypted, and readers can view them in the browser. Outlook uses Transport Layer Security or TLS to encrypt the connection with the email provider of the recipient. Keep reading to learn all about encrypting emails in Outlook.
Options to Encrypt Messages in Outlook in MS 365 Family Subscription 
Microsoft Outlook offers various kinds of encryption. These options are available for Outlook users with a Microsoft 365 Personal subscription or Microsoft 365 Family subscription.
Encrypt – The email is encrypted and does not leave Microsoft 365. Those with Microsoft 365 and Outlook.com accounts can download attachments from Outlook.com and its mobile apps without encryption. however, if you use another email client, use a temporary passcode for downloading attachments.
Encrypt and prevent forwarding – The email remains encrypted in Microsoft 365. You cannot forward or copy the email. Office attachments like Microsoft Excel, Microsoft PowerPoint, or Microsoft Word stay encrypted after their download. However, attachments in formats like image or PDF files don't need encryption to download.
Unrestricted – This is the unsecured email format, which is the default one.
Confidential – This type of encryption restricts access to those with an approved email account.
Options to Encrypt Contents and Attachments for Outgoing Messages in Outlook 
Encrypting an email turns it from readable plain text into unreadable cipher text. You can only decipher the message if you have a private key corresponding to the public key used to encrypt the email. If you don't have the key, you will keep seeing the scrambled cipher text.
There are two kinds of encryption options in Outlook for Microsoft 365, Outlook 2021, 2019, 2016, 2013, and 2010. These include the following.
S/MIME Encryption – For this kind of encryption, the recipient and sender should have a mail application compatible with the S/MIME standard.
Microsoft 365 Message Encryption – To use this subscription, you must have Microsoft 365 Message Encryption. It is present in the Office 365 Enterprise E3 License.
Point to Remember Before You Password Protect Attachment in Outlook
In order to know how to encrypt email in Outlook in the newer versions using S/MIME, you must have a digital ID for Outlook. Microsoft recommends that you obtain a digital ID that an independent certification authority issues. If your organization has policies that require you to adhere to different procedures, consult your network administrator.
These IDs can be used not only to password-protect attachments in Outlook, but also documents from applications like Microsoft Access, Word, PowerPoint, Word, and OneNote. 
After that, follow this process to set up the certificate in Outlook.
In Outlook, go below the 'File' menu.
Choose 'Options' followed by 'Trust Center.'
Select 'Trust Center Settings.'
Choose 'Email Security' in the left pane.
Select 'Settings' below 'Encrypted email.'
Head below 'Certificates and Algorithms.'
Tap 'Choose' and pick 'S/MIME Certificate.'
Choose 'OK.'
The Process of Encrypting with S/MIME for Office Insider with Microsoft 365 Subscription
The steps that Office Insider users with MS 365 subscription should follow for encrypting a message is as follows.
In an email, select 'Options.'
Choose 'Encrypt' followed by 'Encrypt with S/MIME.'
If you have installed the S/MIME certificate on your computer, you'll notice 'Encrypt with S/MIME.'
The process of encrypting with S/MIME for Outlook 2019 and 2016
Open an email message.
Select 'Options.'
Next, choose 'Permissions.'
After these steps, users of all the Outlook applications can finish composing their emails and choose 'Send.'
The Process of Encrypting with Microsoft 365 Message Encryption
Microsoft 365 subscribers should follow these points to encrypt using MS 365 message encryption.
Select 'Options' in an email message.
Now, choose 'Encrypt.'
Select the encryption with the restrictions you desire to enforce. This can be 'Encrypt-Only' or 'Do Not Forward.'
Note that the 'Encrypt-Only' feature is for users of
apps for enterprises that use Exchange Online.
Outlook 2019 and 2016 users should select 'Options' on an email message.
Next, choose 'Permissions.'
Choose the encryption option with the restrictions you want to enforce.
How to Send a Password-Protected Email in Outlook
You can encrypt a single or all outgoing messages. Here is the procedure to do the same.
1. Password protects a single message 
Tap 'File' on the email you are writing.
Now, choose 'Properties.'
From here, tap 'Security Settings.'
After that, check the 'Encrypt message contents and attachments' box.
Now, write your email and tap 'Send.'
2. Password protects all outgoing emails
You can encrypt contents and attachments for outgoing messages by default. However, your recipients should have their digital ID. It will enable them to view or decode your email.
Head to the 'File' tab.
Here, choose 'Options.'
From the dropdown, select 'Trust Center' followed by 'Trust Center Settings.'
Go to 'Encrypted Email' below the 'Email Security' tab.
Check 'Encrypt contents and attachments for outgoing messages.'
To modify more settings, tap 'Settings.'
Here, select a particular certificate.
Some Things to Note About the Encrypt Button in Outlook
A common query while securing emails in Outlook concerns the "encrypt" button. Many users find encrypt button missing in Outlook. But that is because of the new Office update. This new feature is available for Microsoft 365 subscribers for Windows Desktop clients. The changes in encrypt button are as follows:
Earlier there was the 'Permissions' button. This is the new 'Encrypt' button.
The encrypt button has both S/MIME and IRM encryption options.
However, the S/MIME option will only be visible if you configure the S/MIME certificate in Outlook. Otherwise, you won't find the encrypt button and will complain that it being missing.
How to Send Encrypted Email in Outlook Web App
If you compose emails in Office 365, it is easy to encrypt them using Outlook web apps. Here is the process to follow.
Start by writing a new email.
Find the 'Encrypt' button.
When you locate and tap this button, your Outlook email will get encrypted.
Use the 'Change Permissions' button to modify the encryption setup.
Now, you can choose the encryption policy for your email in the Outlook web app in the new pop-up window.
As per your encryption, your email is now encrypted and secure in the Outlook web app.
That's it; this encryption procedure is very similar to the classic Outlook web app. 
Frequently Asked Questions
Q.1 Can I encrypt a message in the subject line of my Outlook email?
Ans.1 Yes, you can encrypt an email in the subject line of Outlook 365. To do so, follow these pointers.
Begin writing a new email.
Input [Secure] or [Encrypt] in your email's subject line in brackets.
Remember that these commands are case-sensitive.
Finish writing your email.
Finally, tap 'Send.'
That's it; now you can send a secure email in Outlook with brackets.
Q.2 Can Outlook automatically encrypt my emails?
Ans 2. Outlook won't automatically encrypt your emails. To encrypt them, you'll need to set up the security settings in a manner that Outlook encrypts every outbound email. However, the email client will never encrypt your emails by default.
Q.3 Where is my send secure button in MS Outlook?
Ans. 3 Many people notice the 'Secure Send' button disappearing while they are in certain attachments. You can find this button on the Outlook ribbon's 'Message' tab while writing an email in a new window.
If you switch to the 'Insert' tab, return to the Message tab and find this button.
Q.4 How do I add encrypt icons to my Outlook toolbar?
Ans 4. The 'Sign' and 'Encrypt' icons must be there in the New E-Mail menu bar. So, you can encrypt an email in Outlook. Use these pointers to add these buttons to the menu bar in Outlook.
Firstly, click 'New E-Mail.'
If you don't find the icons here, tap the down arrow.
Next, tap 'More Commands.'
The menu will show up.
Here you can add more commands.
From the dropdown of 'Choose commands from', select 'All Commands.'
Scroll down. When you see 'Digitally Sign Message' choose it.
After that, click 'Add.'
Follow the same process for 'Encrypt.'
After that, tap 'OK.'
Now you will find both icons appearing in the Quick Access toolbar in Outlook.
They will be above the window of Compose Message.
Q.5 How will my recipient open my encrypted email?
Ans.When your recipient gets an encrypted email, it will not have any real email content or attachments. The recipient will need to verify their identity through Office 365. They will click 'Read' and will use a one-time passcode. This will be delivered through a separate email from Microsoft Office 365 message encryption. The recipient will then copy and paste the code into the initial web page that requested it and find the decrypted email contents.
Final Words
Hopefully, you now know how to encrypt email in Outlook and keep your confidential communication safe. The ability to do so in Outlook helps navigate various email security challenges. Moreover, you can have considerable flexibility in using a method to encrypt emails. If you desire to know more about the process, feel free to talk with an email tech expert.