Most Common Microsoft Office 365 Issues And Their Fixes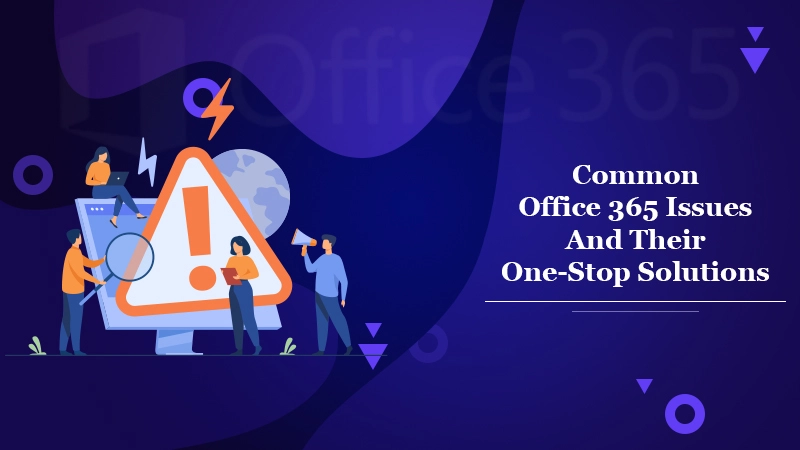 Microsoft's Office 365 software has gained popularity worldwide because of its flexible pricing and a plethora of features. It actually enables users to collaborate, converse, and access their important documents as a team. Office 365 application is extensively necessary for organizations to be accessed in order to boost productivity and maintain efficiency. But as with all software, you may however routinely experience Office 365 Issues.
A couple of technical glitches could occur during sign-in and your account activation. There is no need to get disappointed at all as fruitful tips and techniques will solve your problem soon.
In this post, we have listed the most common Office 365 problems and their intuitive solutions. Thus, keep an eye on this blog post.
Also Check:- How to Update Office 365
Common Office 365 Issues & Effective Solutions
In the beneath section, we will walk you through the most frequent Microsoft Office 365 Issues and you can resolve them.
So, if you are a newbie and confront any issues with your Office 365, pay your attention here. You will learn whatever you need.
1: Account Log in Problem
When you try to log in to your Office 365 account, you might receive an 'Incorrect User ID or Password message. This usually happens if you enter the wrong login credentials. Apart from this, there are also several reasons for which you are being prevented from signing in to your Office 365.
Reasons:
Your Office 365 subscription might have expired.

Your user account is probably not enabled.

You tried to sign in with the wrong username and password.

The password you tried to sign in has expired.

Maybe the administrator has changed your password without informing you.
Solutions:
Here're the stepwise directives you should put into practice in order to get rid of your Office 365 Login Issues. Let's give a glimpse at the compiled solving tricks:
Before typing your password, make sure the CAPSLOCK key is Off.

Double-check the spelling of the password after entering it into the Password field.

Always try to enter your username and password manually despite copying them from anywhere.

You are also recommended to check your internet connection.

Utilize your usual computer and IP address to connect to Office 365 service.

If none of the above guidance works, at the end reset/change your Office 365 account's password.

The recovery email that you provided at the time of the configuration of Office 365 will also help you to fix the login issues.
2: Issues With Safari Browser
When there is a problem with the Safari browser, you won't be able to access your Office 365 account. Safari issues can usually be happened due to the Intelligent Tracking Prevention (ITP) feature of the browser.
Solution:
Here's how you can resolve Office 365 Problems with the safari browser:
Open Safari browser first.

Now, navigate to Preferences > Privacy.
Deselect the "Prevent cross-site tracking" option.
Now, access "teams.microsoft.com."
3: Sync Issues in Office 365
Synchronization issues with an Outlook account usually occur if you don't have the latest version of Outlook installed on your computer. It actually prevents you from sending or receiving any emails.
Thus, the Outlook app will completely be useless unless you solve this Office 365 Outlook syncing problem.
Reasons:
Connectivity issue

Outlook won't connect to the mail server
Solution:
First and foremost, you are suggested to check your connection to the email server.

Make sure the connection settings of Outlook are configured correctly.

Configure your POP3 and SMTP settings accurately for connecting to Microsoft mail servers.

Furthermore, if IMAP is used, check its settings as well.
4: Office 365 Update Issues
Microsoft always recommends its users update their Windows, Office 365, and other software regularly. Microsoft updates are released from time to time for better performance and word fluency.
Updating helps protect software against threats, and viruses, and fixes all major or minor bugs. If updates are not installed automatically, don't worry! Here, we will show you what to perform.
Solution:
First, open one of the installed Office 365 apps.

Now, go to the "File" menu.
Afterward, navigate to Account > Update Options > Update Now.

After doing so will check any available Office 365 updates and install them simultaneously.
While updating, make sure a strong internet connection is available and no firewall is blocking network connections.
Additionally, you need to check your update channel just by opening an Office 365 application. And then go to the File menu and select the "Office Account" tab. Now, click the "Account Outlook" button.
After doing so, the list of Office 365 update channels will display, and thereafter you can cross-check them.
5. Fix the Problem of Failed Login Credentials
Do you find yourself entering the right credentials but constantly failing to access your account? In this situation, you should reset your password. 
Go to

https://passwordreset.microsoftonline.com

if you use a school or work account.

Head over to

https://account.live.com/ResetPassword.aspx

if you use a personal Microsoft account. 

If you're an Office 365 administrator, you must modify the password by yourself. 

If your company has numerous Office 365 admins, request them to reset your password. 
You can change your password independently if your organization's administrator permits you to change your password. But if this permission isn't granted, you can go to the password reset page to contact your administrator. 
6. Troubleshoot a Locked Office 365 Account When You don't have a Recovery Email
Your account will be locked after multiple login attempts with incorrect details. To know how to fix Office 365 issues like this one, you must authenticate and verify your password and username to access the account. But if you don't have a recovery email in place, the process can become challenging. In such a situation, you can adhere to the steps below. 
Use a device that you used earlier to log in when trying to recover your account. Microsoft will identify the device's IP address. 

The questions that Microsoft asks can or cannot apply to you. You need to answer as many questions as you can. 

The email ID that's requested should be an active one. Microsoft will not use this email for the purpose of marketing. Instead, it only gives you the outcome of the recovery request. 

You can also use the Office 365 recovery form, wherein you will answer a set of questions that Microsoft thinks the administrator would know. For doing so, follow these points.
Navigate to live.com/acsr. 

Input the data for the account you want to recover.

Enter an email ID that Microsoft can use to connect with you. 

Confirm the email ID via the code sent to your email.

You will need to answer various questions about yourself.

Lastly, submit the form.
7. Use Tools to Fix Office 365 Issues
Similar to the different tools that Microsoft provides your organization, it also has a set of tools to help you fix Office 365 issues. Here are some of the most effective tools to fix the different issues.
Office 365 Support and Recovery Assistant – The Support and Recovery Assistant tool is a standalone application using which you can fix various Office 365 problems. After you install the tool on your system, it will run several tests in terms of setting and solving any kind of issues. It's a very robust utility that will help you fix the diverse problems and glitches you cannot resolve by yourself. Moreover, you will also find tips to deal with similar problems along with instructions having useful links.
Office 365 Service Health – It is an online tool that's available for organizations. But you must remember that only administrators can access it in the Office 365 Admin Center. You will be able to see potential Microsoft Office 365 issues and instructions on resolving them.
The Remote Connectivity Analyzer – This utility identifies problems related to Office 365. It especially fixes connectivity issues, which result in a myriad of glitches. You can use it to fix Outlook not syncing and issues with the OneDrive connection. Additionally, you can also detect issues with the aid of this tool by running tests for various features.
8. Fix Office 365 Issues Using Office 365 Repair Tool
The Office 365 Repair Tool is a fruitful utility that lets users eradicate most of the Office 365 installed application problems.
Here's how you can install and use it to rectify the issues that you confront while using Office 365:
Open the "Control Panel" on your Windows.
Now, go to the "Programs and Features" section.
Select the "Office 365" option.
Then, click the "Repair" tab.

Two options are available: Quick repair and Online repair. The online repair tool is more advanced and performance-wise it is also more effective.
Final Thoughts
Office 365 is nowadays a popular SaaS (Software-as-a-Service) platform for enhancing productivity but also at some instinct a couple of Office 365 Issues occur. Those issues mentioned in this blog post are very common and provides a solving guide is ultimate.
If you face any other technical errors with Office 365, feel free to get in touch with our Office 365 Support team. We have a team of qualified engineers working at the 24/7 helpline number. They will direct you to suitable solutions within a couple of seconds.