How To Set up MS Office 365 Email?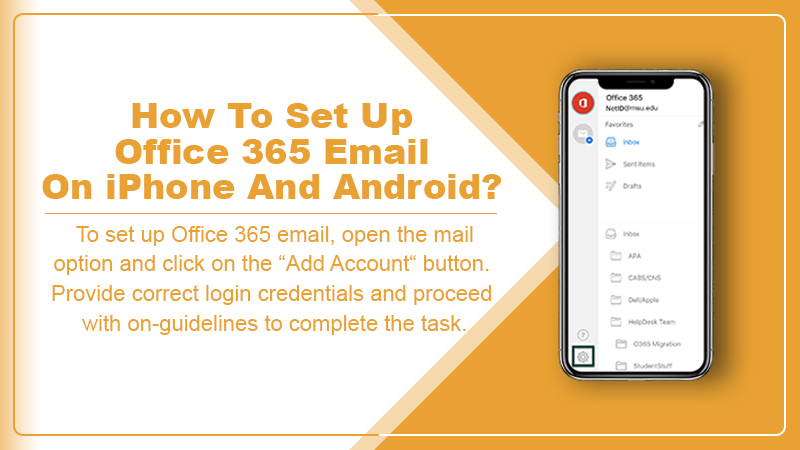 MS Office 365 email service is used by millions of users worldwide. It is one of the most reliable and trusted email service providers available in the market. Using Office 365 email service, users can send, receive, and manage their emails in a single place. The software comes with a built-in calendar that helps to keep track of important events and appointments. Also, when you set up office 365 email, you can stay safe and connected with the protection you can trust.
All the data will be under your control and protected from intruders. If you are also looking forward to setting up an MS Office 365 email, this post can help you. Here, we are going to share the easy instructions that will let you know how you can set up the email on your smartphone device.
 Read Also: Office 365 SMTP Settings on MS Office [How-to Guide]

Setup Office 365 Email on iPhone: Steps To Follow. 
By setting up the MS Office 365 email on your iPhone,  you can easily manage and organize the emails at your fingertips. Below are the simple steps that will let you do the task without any trouble.
First of all, check and make sure that your device has enough battery.
Your iPhone must be connected to the internet.
Go to the "settings" section on your iPhone device.
Tap on the "Mail" option, and go to "Account". 
Important:  Based upon the iOS version you are using, you may need to tap on the " password and account" section.
Click the "Add account" option.
Choose "Microsoft Exchange".
Here, you need to provide an email address and a short description. For example the name of your company or email type. After that, hit the next button.
Click on the "Sign-in"  option for the confirmation of your Microsoft account.
Now, you need to enter the password. After that, Hit the "sign-in" button.
Note: Here, you may need to select your account type as a work or school to proceed next.
If you have enabled multi-factor authentication for your account, you may need to set up an authentication or verified account.
Are you unable to set up office 365 email on iPhone as Microsoft cannot find the account? Well! In that situation, you need to enter the details manually.
Email: Enter the Microsoft Office 365 email address.
Password: Enter the Microsoft Office 365 email password.
Server: outlook.office365.com.
Username:  your email address.
Once you have entered the details manually, hit the "next" button.
Here, you Mighty asked to choose "consent on behalf of your company"; this will allow the mail application and MS 365 account to work together.
Hit the "Accept" button.
Hit the "Save"  button.
That's All!  This is how you can set up office 365 email for your iPhone device. Now, you can come back anytime you want and update the settings as per your preference.
After this, you can see your Microsoft 365 email account in the account section. Just make sure that you follow the instructions in a sequence as they are provided to avoid any technical trouble in between the process. 
Setup Office 365 Email on Android: Steps To Follow 
The Android mail applications may look different across different devices. Below, we have shared some basic instructions that can help you to Setup office 365 email on Android devices. So, keep reading and follow the steps below to do the task:
Firstly, you need to open the native mail client application on your Android device.
Here, click on the "add a new account"  option.
Enter your email address and type the password.
Hit the sign-in button.
Now, you have to choose "Microsoft Exchange Active Sync" for the account type.
Once you have received the server information on your device, you will be prompted to apply the security settings.
Important: When you apply the security settings to the device, this will push the sync policy organization to the device. You can get in touch with the IT administrator to know about the active synchronization policy.
Choose "manual setup".
Hit the "next" button.
Hit the "Done" button.
Update the security settings.
That's All! Your Setup office 365 email on Android is now completed. After that, you can start to populate your emails, calendar, and contact details. 
Read Also: Office 365 Not Activating | How To Activate? [Solved]
Default Email Account Settings for MS Office 365 Email
Username:  make sure that you entered the full Email address to set up MS Office 365 email.
Password:  enter the MS Office 365 email account password login.
Incoming server: outlook.office.365.com. 

IMAP Port: 993.
POP3 Port: 995. 
Outgoing server: smtp.office.com. 
Problems in the Setting of MS Office 365 Email:
If you are having trouble you accessing the email after you set up an office 365 email account on your device, proceed with the following troubleshooting steps:
Install and run the Microsoft Office 365 support and recovery assistant. This tool can help you to resolve the common problems associated with your Microsoft Office 365 email account by providing relevant fixes.
Check and make sure that you have upgraded MS Office 365 to its latest version. The outdated version could be the reason that you are unable to access the services.
Update the operating system you are using, this can also create trouble in using email services.
Remove the Microsoft account credentials from your operating system, and add them again.
Wrapping Up
So, these are some simple instructions that will let you set up office 365 email on your Android and IOS device. The provided instructions are simple and easy to follow. But, if you are still unable to set up your MS Office email account, it is highly recommended to contact email support professionals for peace of expert advice.  
The help support team is available around the clock to provide the required assistance to the users. So, call the experts whenever you want and avail of immediate assistance.