Getting Outlook Error 0x800ccc0f? – Try These Fixes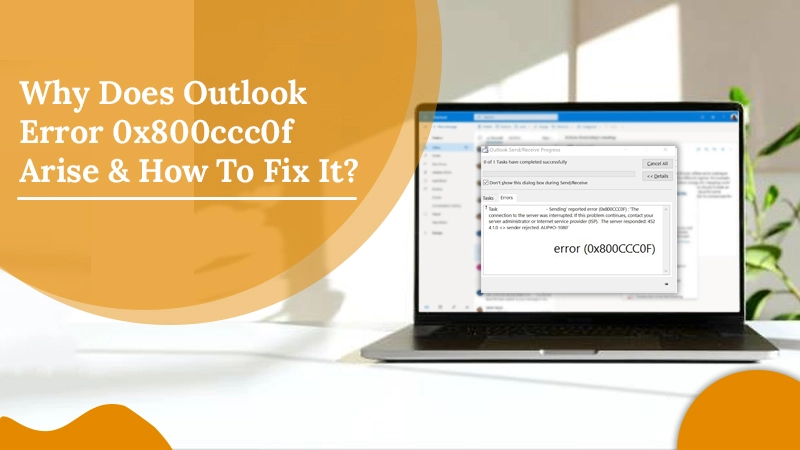 Microsoft Outlook is an email client used by millions of users worldwide. The application allows you to benefit from a smooth email exchange apart from managing your contacts effectively. However, sometimes users are confounded by Outlook Error 0x800ccc0f, in which outlook stops all email exchanges. The error can arise from various underlying causes, such as a corrupt OST file, issues with an internet connection, or server settings. Faulty Outlook profile settings and damaged Outlook profile are other prominent causes behind it. Since the error occurs unexpectedly, users often find themselves in the dark regarding what to do about it. But you can now leave all your tensions behind. Today, we'll explore some effective fixes for this error.
Also Check, How to Fix:- Outlook Send/Receive Error
How to Resolve Outlook Error 0x800ccc0f?
By now, you must have gained more insight into why the error might be arising in your system. Read these fixes and apply those you think best suit the underlying cause of this error on your Outlook application.
Inspect Outlook Profile Settings and Create a New Profile if the Need Arises
The first Outlook error 0x800ccc0f solution is to examine your Outlook profile settings. A problem with any part of the settings, like server name, password authentication, or SMTP or POP3 server, can cause you to face this error. Incorrect profile settings also conflict with send/receive protocol and lead to this error. 
If you are unsure of the default settings, it's best to create a new Outlook profile. Here is how you can do so.
Open Outlook and tap '

File

.'

Now, choose '

Account Settings

' followed by '

Manage Profiles

.'

Choose '

Show Profiles

' followed by '

Add

.'

Input the Outlook profile details and tap '

Save

.'

You'll see your new profile in the profile list. Tap it and choose '

Options

.'

Under its menu, set the new profile as the default one.
Repair Microsoft Outlook Data File
If the 0x800ccc0f Outlook error is due to a corrupt PST file, you need to run a repair of this file. You can use Outlook's Inbox Repair Tool for this purpose. 
In the search box, input '

scanpst.exe

.'

Now, open its search result.

Alternatively, you can also open File Explorer.

Choose 'File' and tap 'Change folder and search options

.'

In the window that opens, tap '

View

.'

Now, select '

Show hidden files, folders, and drives

.'

Hit '

Apply

' followed by '

OK

.'

Locate Scanpst.exe and double-tap to open it.

Hit '

Start

' to begin the scanning process.

If the scan shows issues, tap '

Repair

' to repair the corrupt files.
Also Check:- How to Repair Outlook PST files
Turn Off the Firewall
Often, your system firewall also interferes with the email exchange in Outlook. You need to disable it and then see if you still face the Outlook error 0x800ccc0f Windows 10. 
Launch '

Settings

' followed by '

Update & Security

.'

Tap '

Firewall and Network Protection

.'

Turn off the firewall in Public, Private, and Domain networks.
See if the error appears or not. If not, you must manually add the POP and SMTP server names to your Outlook email account. It will clear the pathways for the emails that you receive and send. 
Choose '

Tools

' in Outlook.

Now, select '

Email Accounts

.'

Choose '

View or change existing email accounts

.'

Tap '

Next

.'

In the email account dialog box, tap '

Add

' followed by '

POP3

' and then '

Next

.'

Input the right POP3 server data and tap '

Next

.'

Now hit '

Finish

.' Verify the Outlook settings.
Use Outlook in Safe Mode
The safe mode in Outlook is much like the incognito window in Google Chrome. When you use Outlook in safe mode, it will launch without any add-ins. Thus, you can safely use the email without letting the add-ins interfere with it. 
Launch the '

Run

' dialog box by pressing the Windows key and R.

In the '

Run

' box, input '

Outlook /safe

' and hit '

OK

.'

You will see a '

Choose Profiles

' window opening. On it, tap '

OK

.'
Check the Size of Your Router's MTU
MTU refers to the Maximum Transmission Unit. It is the greatest packet size that can be transmitted over the network without causing any fragmentation. If a packet is greater than the MTU setting, it will split into smaller packets. If there are many of these packets, data transmission over the network drastically slows down. 
Moreover, if you are using the wrong size of MTU, you'll be unable to open many web browsers. Outlook Error 0x800ccc0f also has a higher chance of occurring since you'll be unable to transmit or receive files over the network. To resolve this problem, you should check your existing MTU value and find the correct MTU size. You should connect with your internet service provider for the same. You can execute a ping test for your router, like ping www.mail.com –f -11472, and you'll be able to see the MTU status.
Examine Any Connectivity Problems
It is a basic yet commonly ignored resolution for the error. If you don't have a stable or good internet connection in the first place, you will find it extremely hard to carry out proper email exchanges. Open any web page and see if it's displayed properly. If it's not, it means you need to fix your internet connection by either examining the Ethernet connection or the Wi-Fi signal strength.
Summing Up
The Outlook Error 0x800ccc0f can definitely be very troubling. It hinders email communication while also leaving you confused as to what to do to fix it. Fortunately, there are many fixes you can implement to get rid of it. However, if the error persists, it's a good idea to call the professionals of an Outlook support service and get the needed help.