Resolve: "The Set of Folders Cannot Be Opened" Issue in Outlook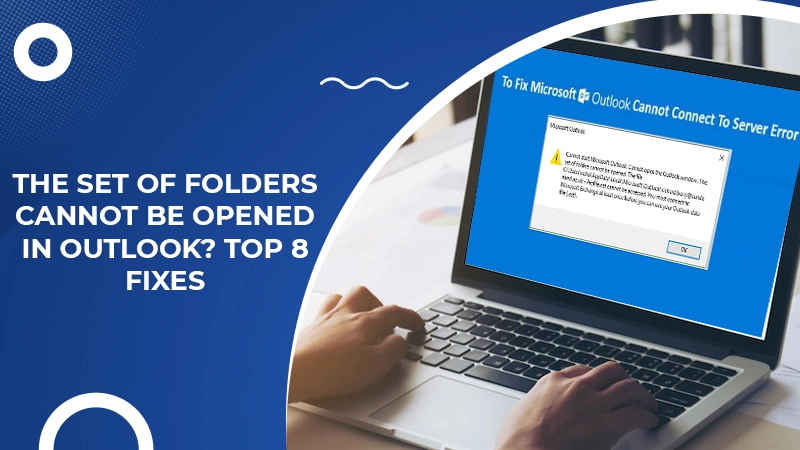 Many people and businesses use MS Outlook as their email client. It's because this email application is feature-rich and easy to use. It's also integrated with other Microsoft products. Moreover, it also gives Exchange connectivity, which is great for enterprise-level communication. However, people also encounter various errors while using it. A common one is that the set of folders cannot be opened in Outlook. It hinders people from accessing their Outlook messages. 
Although its actual cause isn't known, the error can result from the improper setup of MS Outlook on your device. In this article, you'll find various methods by which you can effectively fix this problem. 
Also Check:- How to Stop Spam Emails in Outlook
Fixes for "The Set of Folders Cannot be Opened" in Outlook
Before implementing any fixes, you are requested to exit all the running applications. Now, you can proceed to the various techniques outlined below. 
1. Open Outlook in Safe Mode
Whenever you encounter this problem, try starting Outlook in Safe Mode. In this mode, the program begins without add-ins. Here are the steps you must follow to launch Outlook in this mode.
Hit Windows and R keys. It will open the Run command.

On the 'Run' dialogue box enter, 'Outlook/safe.' Now hit the 'OK' button.
You will notice a 'Choose Profile' dialogue box appearing. Here tap 'OK.' In case the box asks for your account credentials, input your password and then select 'Accept.'

The add-ins are the culprit if the Outlook program begins in the Safe Mode. They are causing this problem. So, you must disable them. 
2. Disable Add-ins
Continuing from the previous fix, when Outlook opens well in the Safe Mode, you must disable the add-ins. To do so, follow these points.
Navigate to the 'File' tab. Once there, choose 'Options' followed by 'Add-ins.'
Choose 'COM Add-ins' present at the bottom of the window. After that, press the 'Go' button.
You'll notice a series of add-ins working with the MS Outlook program. You must deselect them all. Then tap 'OK.'

Lastly, restart Outlook. Find if this error is there or not. Most probably, it will be gone.
3. Create Your Email Profile Again
Many people find that recreating their email profiles works as an effective fix for this problem. To resolve the issue of Outlook "the set of folders cannot be opened" through this method follow these steps.
In the Windows Search bar, input 'regedit' and open the Registry Editor. 
Now, go to 'Computer\HKEY_CURRENT_USER\SOFTWARE\Microsoft\Office\16.0\Outlook\Profiles.' 
Now, delete every folder that you see under 'Profiles.'

Open Outlook again and create your email profile once more. 

Head over to 'File' and choose 'Account Settings.' Now, tap 'Manage Profiles.'
Go over to 'Show Profiles' and tap the 'Add' button. 
Input the relevant details in the box of 'Profile Name.' Then, save changes. 

If you don't feel comfortable with the Registry Editor, you can go through the steps mentioned here to make a new profile. 

If you aren't able to make a new profile through Outlook, navigate to 'Control Panel.'
Here, select 'Mail' followed by 'Show Profiles' and then 'Add.'
4. Repair Your Office Program
Yet another good fix for this problem is repairing your Office program. Go through the steps below to repair Office. 
Navigate to 'Control Panel' and choose 'Programs.'
Tap 'Programs and Features' and choose your Office package. 
Tap 'Change' and open the 'Quick Repair' tool. 
If you still face the error and are unable to use Outlook, run the Online Repair tool.
5. Repair Outlook
Often, repairing Outlook apart from the Office program can also help you eliminate this issue. To repair Outlook, follow these stepwise instructions.
On the Outlook application, navigate to 'Settings.' Then choose 'Apps.'
After that, hit 'Apps and Features.' Then choose 'Outlook.' You can also choose 'Outlook Desktop Integration.'
Navigate to 'Advanced Options' and after that, click on the 'Repair' option.
There is yet another way to repair your Outlook data file. To repair Outlook through an alternate method, follow these steps.
Exit Outlook. After that, go to the following path Outlook 2016/2019: C:\Program Files (x86)\Microsoft Office\root\Office16.
Next, find and run 'SCANPST.EXE.'
Now click 'Browse' to choose your Outlook data file. 
Now press the 'Start' button. After that, choose the 'Repair' option.
6. Download and Run MS Support & Recovery Assistant 
You can also fix the set of folders cannot be opened in Outlook problem by downloading and running a tool. Its name is Support and Recovery Assistant. This tool by Microsoft can easily find and repair several Outlook and Office errors. Go to Microsoft's website and download this tool. After that, install it on your system. After installing, you will notice certain instructions on your screen. Follow them carefully to repair your Outlook application.
7. Minimize Outlook Data Size
Big mailboxes take much time to get opened. Besides, they can also lead to multiple errors during loading. To minimize the size of your Outlook mailbox and data files, follow these steps. 
Open Outlook and tap 'File.'
Now, choose 'Tools' and tap 'Mailbox Cleanup.'

Choose the items you wish to remove. Now, confirm your choice. 

To minimize the data file size, clear the folder of 'Deleted Items.'
Now, tap 'File' and choose 'Account Settings.'
Navigate to the tab of 'Data Files' and select all those files you wish to compact.
Navigate to 'Settings' and tap the 'Compact Now' option. 
Outlook.com and Exchange users should tap 'Settings' followed by 'Advanced.' Then, tap 'Outlook Data File Settings.'
Also Check, How to Fix: Outlook Data File Cannot be Accessed
8. Install Outlook Again
If you use the standalone desktop app, you should uninstall it. Then, restart your system. After that, you need to download Outlook once more. Hopefully, the error will resolve. But if it doesn't, navigate to 'Control Panel' and choose 'Uninstall a Program.' Uninstall your MS Office package and start your device again. Then, reinstall Office.
Final Words
Now you know about all the methods to resolve the set of folders cannot be opened in Outlook problem. Use them one at a time to fix this issue. You'll surely be able to overcome the situation. If you need more assistance in fixing it, connect with professional Outlook technical support services.