Is Your Outlook Not Opening Or Won't Open? – Try These Fixes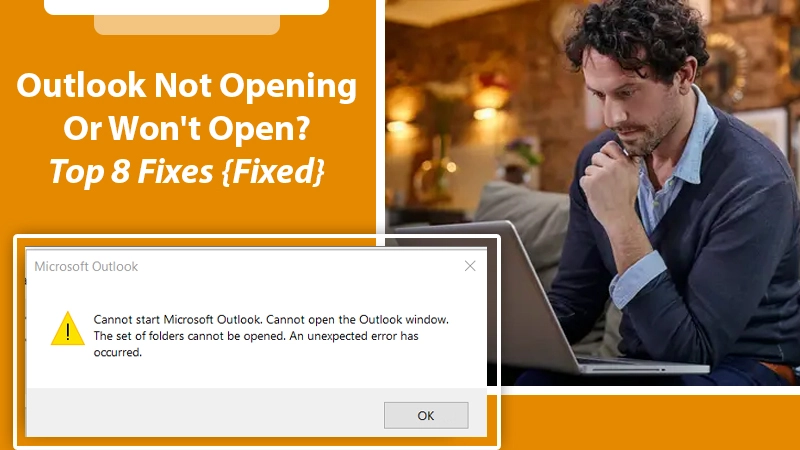 Outlook is undoubtedly a feature-rich and efficient email client. However, as with every other email client out there, it can also encounter various problems. A common problem relates to Outlook not opening or loading. People usually find that upon clicking the Outlook icon from the Start menu, the application refuses to open. 
Note that the resolution for this problem majorly depends on the kind of issue you are experiencing and the Outlook version you have. In this article, you'll find various causes that lead to the program not opening and how you can fix it.
Why is Your Outlook not Opening?
Many issues prevent Outlook from opening. If you are wondering why is Outlook not opening, here are the probable reasons behind it.
Faulty or damaged Outlook PST file.

A corrupt profile.

Defective or obsolete add-ins or extensions. 

Problems with the navigation pane.

A technical glitch in the Outlook app which needs an update.

Internet connectivity problems.

Problems with app updates

Problems with Outlook service.

Addition of another program that isn't compatible with Outlook. 

A virus in your system.
Fixes for Outlook Not Opening Issue
There are various ways to resolve this issue. You must try all of them out. One of them will surely open your Outlook program.
1. Enable the Option of Work Offline
The Work Offline option enables the users to access mail that they have saved before they found that their Outlook won't open. So, you must launch Outlook and see the Work Offline option. It is at the bottom of the window. In case you don't notice this status, it implies that you have disabled it. Enable Work Offline on your PC by following these points:
Choose 'Send/Receive' followed by 'Work Offline.'
Mac users should choose 'Outlook' on their menu bar. After that, choose 'Work Offline.'
Related Post:- Why is outlook working offline
2. Disable Add-ins
When add-ins conflict with the Outlook program, it naturally hinders the program from opening. So, the corrective measure is to disable add-ins and check the status of the issue. To do so, follow these points.
Choose 'File' followed by 'Options' and then 'Add-ins.'
In the section of 'Manage', choose 'Go.'

Clear all the checkboxes beside the add-ins you will disable. 

Lastly, select 'OK.'
3. Rectify the Faulty Navigational Pane
As mentioned before, a faulty navigational pane can lead to Microsoft Outlook not opening. So you must reset the navigational pane by adhering to the following steps. 
Right-tap the 'Windows' icon.
After that, hit the 'Run' window.
Input 'outlook.exe/resetnavpane' and tap the 'Enter' key.

This action will reset the faulty navigation pane. Now check if Outlook is opening.
4. Open Outlook in Safe Mode
One of the causes, of why your Outlook is not opening, may be the broken add-ins. To fix it, you can start Outlook in Safe Mode. To begin this program in this mode, follow these steps.
Access the 'Run' terminal by pressing the Windows key + R.
To begin Outlook in Safe Mode, copy-paste 'outlook.exe/safe' and tap 'OK.'

Now your Outlook will begin in Safe mode without any add-ins.
5. Repair Microsoft Office
Another effective fix is to repair MS Outlook. You can repair it by going through these steps.
Hit the Windows key + R.

Next, press 'appwiz.cpl' and press Enter. 
Now, you should locate the 'MS Office Package.'
Right-tap on the installed package followed by tapping on 'Change.'
Tap the radio button you see next to 'Quick Repair.'
Lastly, tap 'Repair.' 

Adhere to the instructions you see on your screen to resolve the issue. 
6. Make a New Profile
The user's Outlook profile consists of their Outlook settings. In case the profile gets corrupt or damaged, you will likely find that Outlook won't open. To fix it, make a new profile, and make it a default one. 
Go to Windows, choose 'Start,' and tap 'Control Panel.'
Here, locate 'Mail' and choose it.
Now, choose 'Show Profiles.'
In the 'Mail Setup – Outlook' dialog box, choose 'Add.'
Input the name you desire to use for your new profile in the box of 'Profile Name.'
Input your email address, name, and password in the 'Add Account Wizard.' You can find it on the 'Auto Account Setup' page below the 'Email Account.'
Choose 'Finish.' You'll find the new name of your profile added in the 'Mail' dialog box.
Now, choose 'Prompt' for a profile, which will be used under 'When starting Microsoft Outlook, use this profile.' Then, choose 'OK.'
Start Outlook again and choose the new profile name you made in the dropdown list in the dialog box of 'Choose Profile.' Now, see if Outlook is starting correctly or not. 
7. Examine the Mail Server Settings of Outlook
Accidentally changing the Outlook mail server settings can result in problems like the program, not opening. To check the 'Settings,' follow these points.
Choose 'File' followed by 'Account Settings.'
Then select 'Account Settings again.
Now choose your 'Email' and opt for 'Change.'

If you use iCloud Yahoo or Gmail email address or a custom domain email ID that ends with @live.com, @hotmail.com, or @msn.com, it's not possible to modify settings directly. Windows manages your settings, so there's no need for you to follow this step.
8. Repair MS Outlook Data Files
You can also repair Outlook data files to resolve this problem. When you find Outlook not opening, employ the Inbox Repair Tool to detect and resolve this issue.
Close Outlook.

Download the Inbox Repair Tool from Microsoft's website and open it.
Choose 'Browse' and go to your personal folders.
Then choose 'Start.'
Now select 'Repair' if the scan detects any issues.

After the repair ends, start Outlook again.
Final Words
All of the methods listed above are effective fixes that you can implement when you find your Outlook not opening. However, if the issue persists even after employing the measures, you can avail yourself of expert Outlook customer support. The support technicians will surely resolve all your Outlook issues so you can use it effectively again.