Team Status Not Showing In Outlook | How To Fix?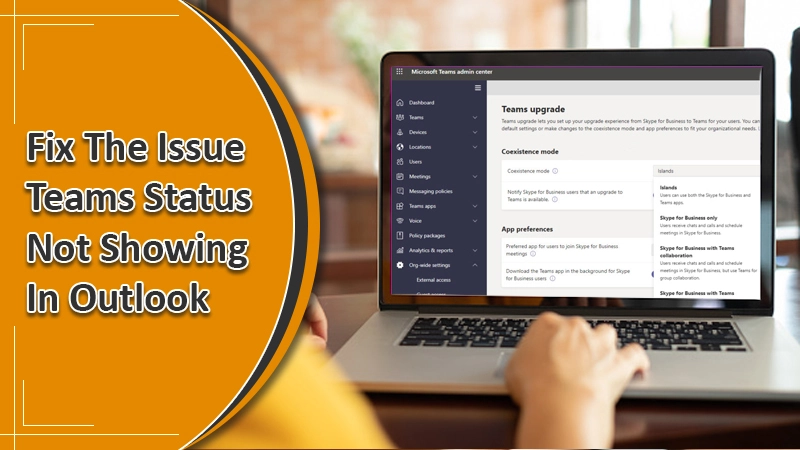 Microsoft Outlook as we know is one of the important utilities in offices. It may give you incredible features which are hard to resist. One such feature is Microsoft Team. 
Alas, watching your team status not showing in outlook gets you a painful feeling.
Terrible feeling, when the outlook not showing team status. Isn't It? The Checkbook against the team is ticked, but still, showing gray out in outlook. But don't worry, we won't let you suffer more with that thing.
You can easily go to the one-by-one steps to resolve the issue. However, if you don't see sufficient time to follow these instructions, please get in touch with Outlook support experts. 
Things to Do When Teams' Status is not Showing in Outlook
Firstly, you need to check a few settings
Step 1: Enable "Allow Scheduling Private Meetings" 
While you enable the private meetings by switching on the "Allow private meetings" option by switching to allow private meetings mode.
First of all, access the Microsoft Teams for Business Admin Center.

 Click Meetings On The Extreme Left Hand Side Console

 Find Meeting Policies 

 Go to the General section, toggle Allow scheduling private meetings.

You can relaunch the Outlook client and confirm if the Microsoft Team status not showing the problem, whether it is resolved or not

If in any case, it is still visible, you can check the firewall and security settings.
Related Post:- How to Open Outlook in Safe Mode
Step 2: Temporarily Disable the Firewall and Security Settings
This feature needs to be in, but at times, this can cause some issues too. To access My Team, you can disable firewall & security settings to fix team status not showing in outlook issues.
Check the Start button and select Settings

Find Update and Security

On the left-hand side pane, click Windows Security

Now Choose the Firewall and Network Protection 

Select the Activate Network

Consequently, turn off the toggle switch against the Firewall network protection 
Once you're through with the process, you can check whether the Microsoft teams missing trends in outlook are missing or not. Now check if you can access outlook presence status not showing teams. In the Microsoft teams, now you can reactivate the firewall and security settings. 
Step 3: Keep the Same User Profile for Outlook and Microsoft Teams 
It is the most basic troubleshooting thing but is often ignored. Always choose a single user profile for both the Microsoft team and Outlook email. Now navigate the profile to see any improvements in outlook if it is showing Team Status.
Now you can see the issue is fixed, and you can manually enable the Team add-in in Outlook.
Now You can Manually Activate the Add-in Microsoft Outlook Client
Go to the Outlook section

Now click the File tab and Go to Options

On the left-hand window, click the Add-in

Now In the Active Application Add-ins list, locate the Microsoft Teams Meetings 

Add-in for Microsoft Office and check if Add-in is activated.

Finally, now press OK to save the settings
Related Post:- Why Outlook Inbox Not Updating
Still What to Do When It Comes to Fix Outlook Not Showing Team Presence 
Let's also look at some alternate problems:
Always ensure and install the Microsoft team app as administrator. It'll give you all the administrator privileges required to install the add-in on your computer. 
Also, you can run Outlook in normal user mode. Running Outlook as an administrator may create trouble in identifying the registered COM add-ins.
Once you download the Teams app, please ensure to sign in to the app at least once.
Finally, you can restart the team app and outlook. The missing Teams presence in Outlook should resolve. 
So outlook presence status not showing teams, you can still resolve the Microsoft team not showing the outlook status. Possibly, because of many minor technical glitches or misconfigured settings in Outlook. However, if you still have little idea what to do, you can immediately get in touch with our dedicated email support experts and find solutions on call.